August 6/17 23:00 pm - Pendrel, Batty and Disera Finish Top-5 at MSA

Posted by Editoress on 08/6/17

Once again, Mont-Ste-Anne offered exciting racing on Sunday, at Round 5 of the Cross-country World Cup. Both the Elite men's and women's Series leaders won, clinching the overall titles for their respective categories in the process. Canadians put in top-5 performances, with Catharine Pendrel (Clif Pro Team) and Emily Batty (Trek Factory) finishing third and fourth in Elite Women, while Quinton Disera (Norco Factory) had the best ride of his career to finish fourth in Under-23 men.

After torrential rain on Saturday for the Downhill, the course dried out through the morning Under-23 races. Each category rode a start loop before tackling the 4.3 kilometre circuit.

In the men's Under-23 race, World Cup leader Martins Blums (ZZK) attacked from the gun, with only Canada's Peter disera (Norco Factory) able to stay with him. However, Peter Disera paid the price, gradually falling back. Nadir Colledani (Torpado Gabogas) moved up to second by mid-race, with Simon Andreassen (Specialized) following in third. Peter's younger brother, Quinton moved up behind the other two chasers before bobble dropped him back to fifth. He outsprinted Simon Vitzthum to take fourth. Peter Disera is now tied with Andreassen for third in the overall standings.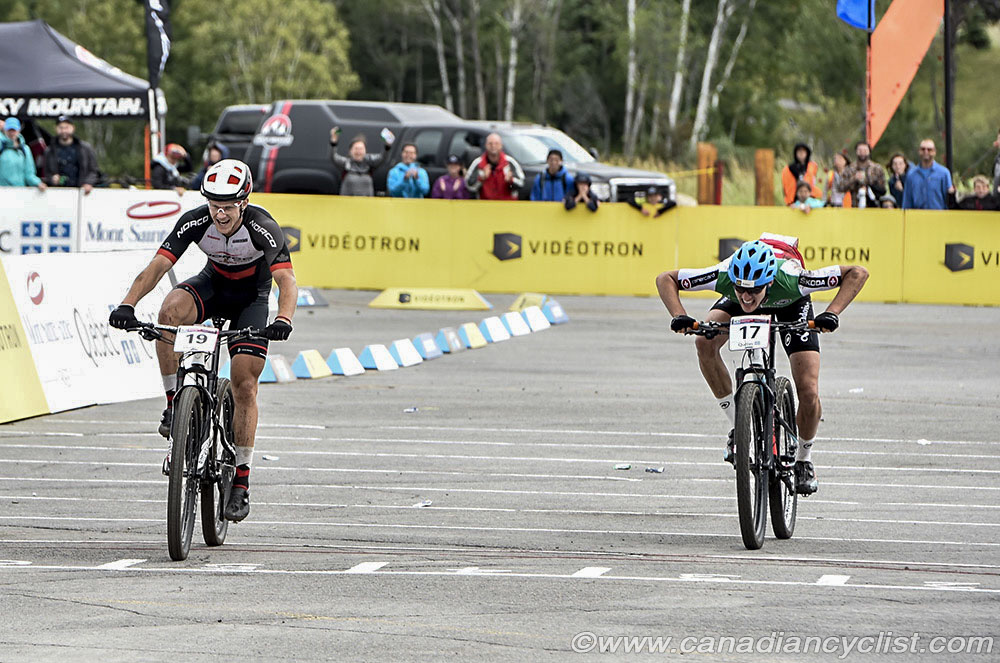 quinton Disera takes the sprint for 4th
The Elite women's race was missing top riders Jolanda Neff (Kross Racing) and Sabine Spitz (Wiawis Bikes), plus a late scratch from number-two ranked Maja Wloszczowska (Kross Racing), who had broken her wrist in a crash. However, Olympic champion Jenny Rissveds (Scott-SRAM) made her first appearance of the season of the World Cup - although she was caught in a crash in the first 200 metres and never figured in the race.

Pauline Ferrand Prevot (Canyon Factory), the 2015 world champion, attacked on the start loop, with only Pendrel able to join her. Pendrel then attacked and opened a gap before World Cup leader Yana Belomoina (CST Sandd American Eagle) and later Ferrand Prevot bridged across, and the trio rode away from a chase group led by Batty. Pendrel was dropped late on the second lap, but would solo in for third, while Belomoina dropped Ferrand Prevot on the third lap to take her third victory of the season. Batty dropped Irina Kalentyeva (Moebel Maerki) in the last lap to take fourth.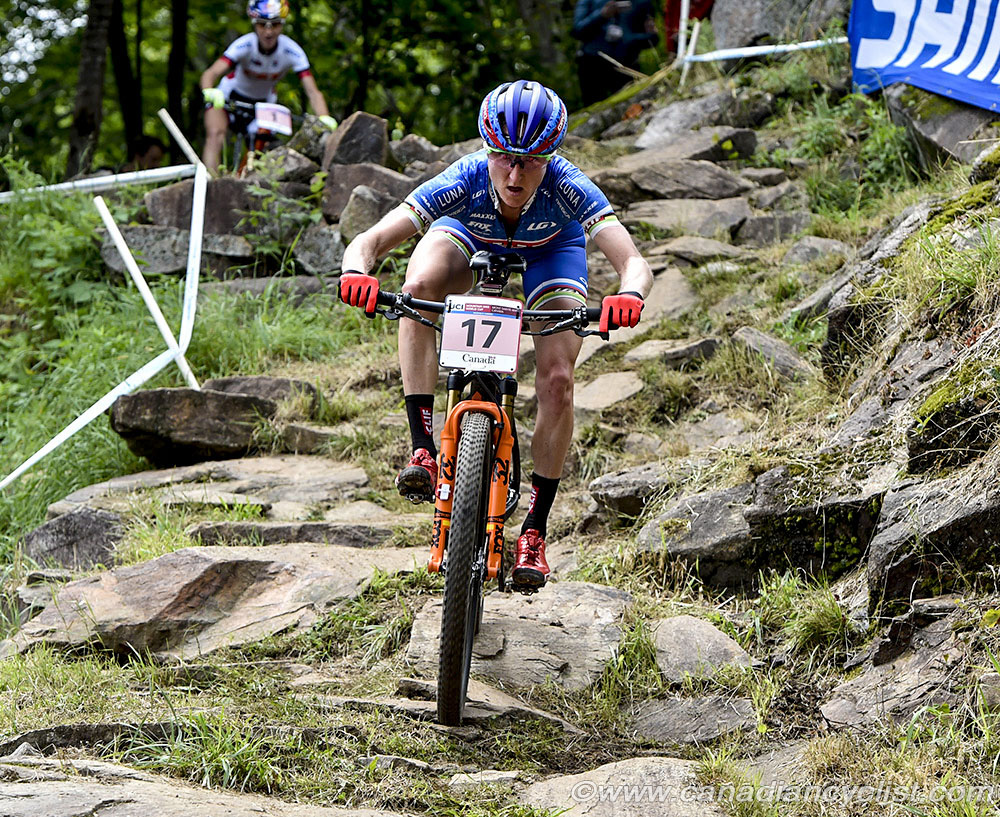 Pendrel in the lead early in race
Yana Belomoina
"It's crazy, I don't know what to say about this season," said Belomoina. "It's a magic season for me. This gives me great motivation for the world championships."

"I've been feeling stronger since Lenzerheide [Switzerland, Round 4]," said Pendrel, "and today's the first day it came together for a podium. I felt really strong and I was descending faster than Yana and Pauline, but Yana got a bit of a gap on the switchback climb. I think I had a bit of a mental moment and lost the fight for the front."

Belomoina has an uncatchable 1050 points with one round remaining. Linda Indergand (Focus XC) moved into second ahead of the missing Wloszczowska with a distant 655 points, with Wloszczowska at 610. Batty moved up one spot from eighth to seventh, and could move into the top-5 depending on her performance in the final round. Pendrel, who had a difficult start to the season, jumps from 17th to 11th.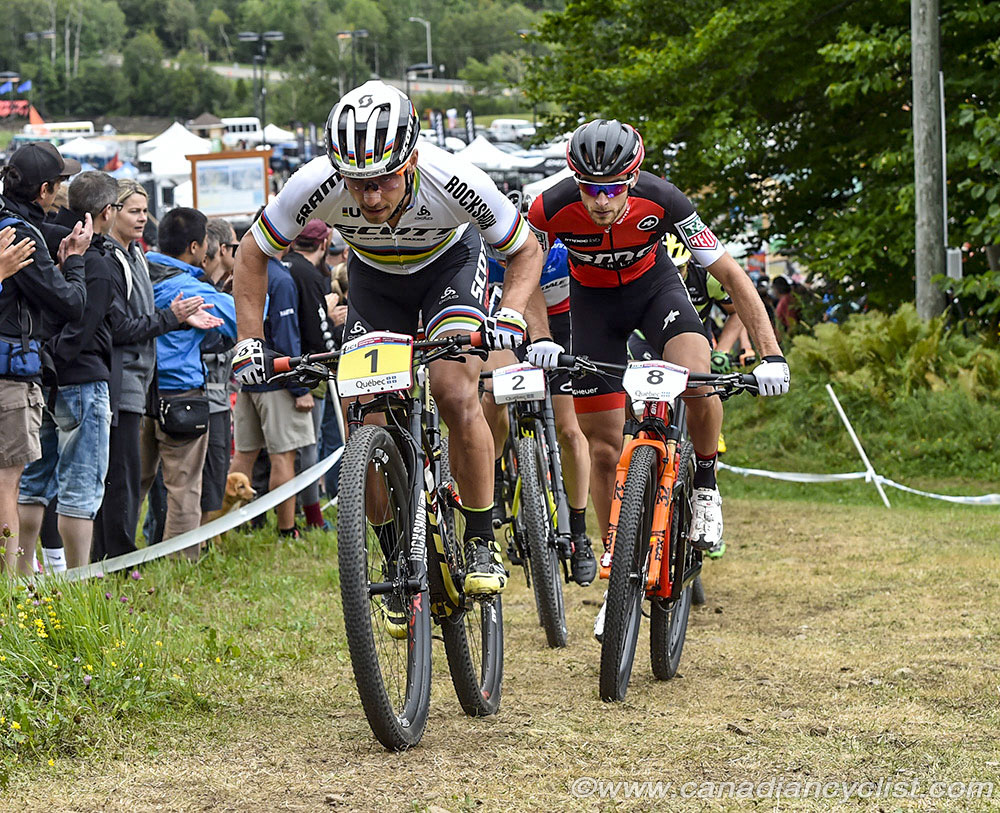 Nino Schurter charging at the front early in the race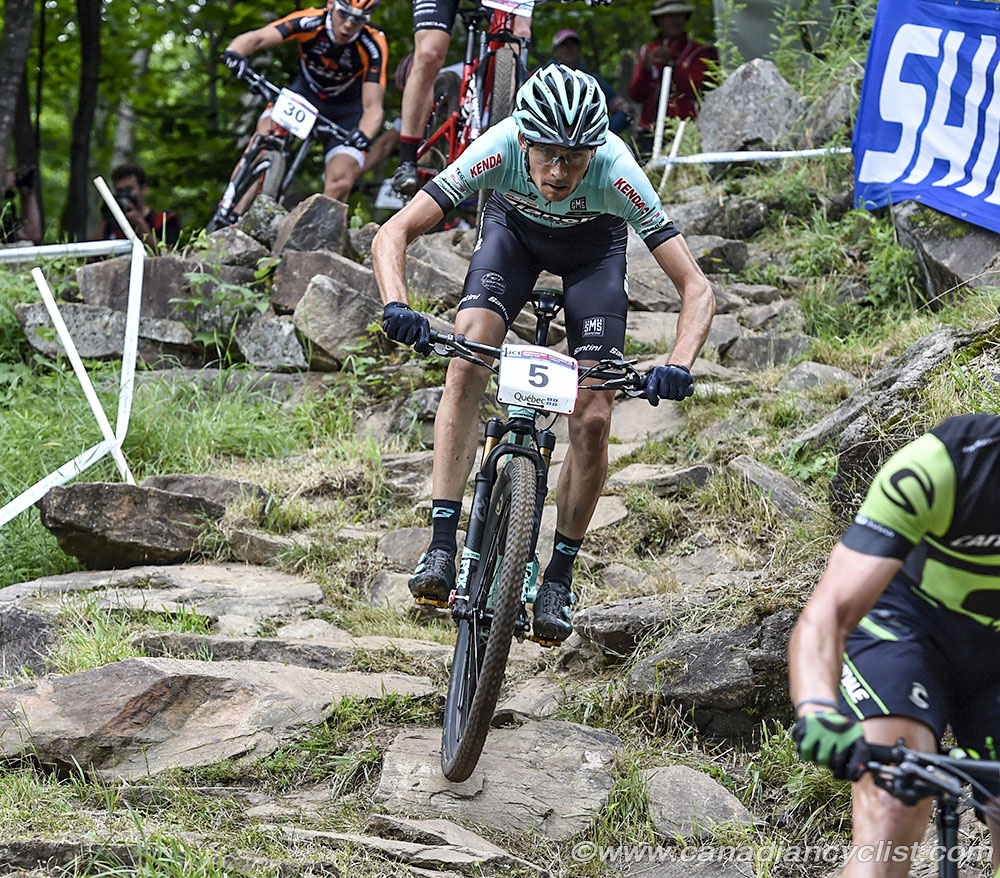 Stephane Tempier
The men's race saw world champion Nino Schurter (Scott-SRAM) go to the front on the opening loop, joined by Titouan Carod (BMC) and Maxime Marotte (Cannondale Factory). Marotte fell off the pace, while Manuel Fumic (Cannondale Factory) moved up to join the leaders by the second lap. Schurter attacked on the fourth lap, dropping the other two, to solo in for his fifth consecutive World Cup win this season - a record - and the 25th of his career. Behind, Carod managed to hang on for fourth after being overtaken by Stephane Tempier (Bianchi Countervail) and Gerhard Kerschbaumer (Torpado Gabogas), who took second and third, respectively.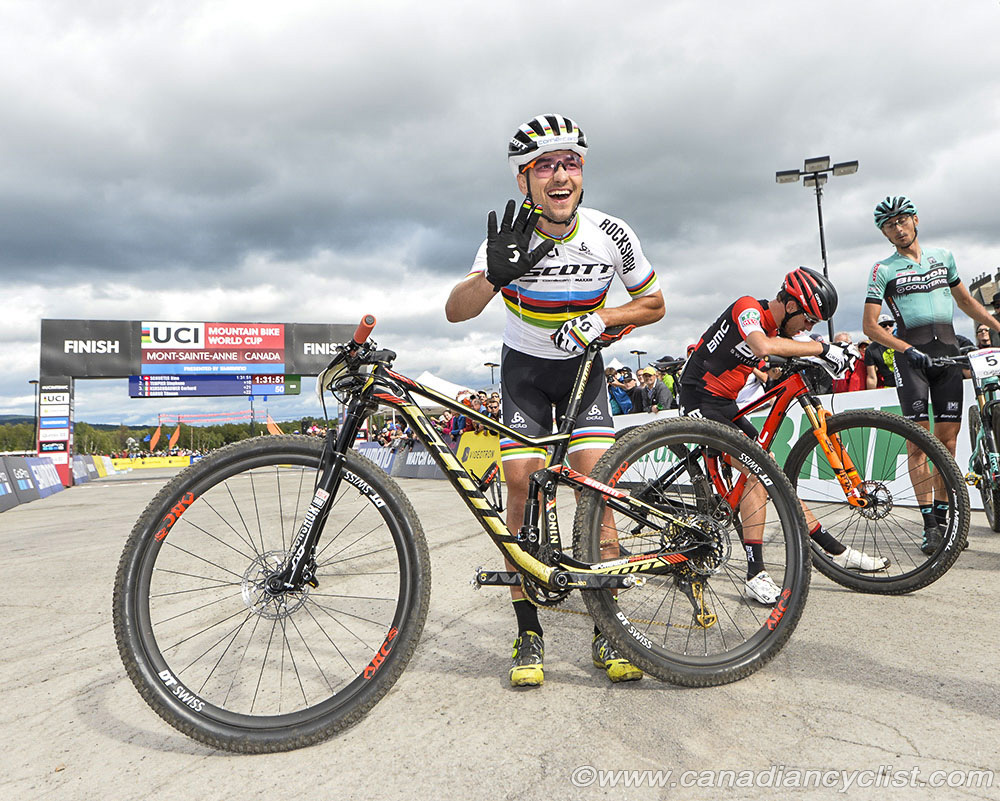 "I'm really happy," said Schurter, "so far it's the perfect season with the fifth win and already the overall title. I love courses like this, that are super technical with steep climbs; it's just a perfect course. Fumic put some pressure on me, and I thought he would be tough to beat, but I think he blew up a bit. It was really awesome to make history by winning five World Cups in a row."

Rio Olympian Raphael Gagne (Cannondale-3Rox) was the top Canadian finisher in 34th. Gagne had a strong start, jumping up to the top-25 in the first couple of laps before fading slightly in the second half of the race. Leandre Bouchard (BH SR Suntour KMC), the top ranked Canadian on the World Cup, managed 40th, with Derek Zandstra (Cannondale-3Rox) 42nd.

"My goal for the race was top-20, but you never know what legs you bring on the day," said Gagne. "I felt strong, and I knew to get into the top 20 I had to move up early on. I definitely burned a lot of matches doing that, and I paid for it later. But at least I was in contention."

In the overall standings, Schurter has a perfect 1250 points to lock down his fifth overall title with one round remaining, 550 ahead of Marotte, with Tempier jumping to third from fifth. Bouchard remains the top Canadian, unchanged in 25th place, with Zandstra 49th.
Video interviews with Canadians