April 7/20 13:46 pm - Race Revisit - 2017 Junior Track Nationals with Maggie Coles-Lyster

Posted by Editoress on 04/7/20

Today is the latest in our series - Race Revisit - where we return to a past event that took place on (or around) this date. As well as a recap of the event and links to our original coverage - race reports, results, photos and video interviews - we will also be trying to include comments and in-depth commentary from some of the Canadian athletes who were there.

Today, it is the 2017 Junior Track Nationals, at the Mattamy National Cycling Centre in Milton, Ontario over three days - March 31st to April 2nd. We are talking with track, road and cyclo-cross rider Maggie Coles-Lyster, who won medals in all ten events contested by Junior women - eight gold, one silver and one bronze. Fellow British Columbian Riley Pickrell wasn't far behind, in the Men's Under-17 category winning seven gold and one silver. This was the start of a year that also saw her become Junior world champion in the Points Race.

Our coverage:

Reports
Day 1
Day 2
Day 3

Results
Day 1
Day 2
Day 3

Maggie talked to us about her results from California, where she is currently training:

Going into the 2017 Track Nationals I had been undefeated in bunch and sprint events since my first year as a U17 [three previous years], and this was my final year as a Junior. Going into it, the year before I had raced world championships in 'Cross, Track and Road, and after Junior Road Worlds in Qatar [2016], I was done. I was exhausted, cracked on bike racing and I needed a break. So I took just over two months completely off the bike, got into my school and the whole yoga thing; just did other stuff besides bike racing. That was the first cyclo-cross season I had missed since I was eight years old.

It was a big period of change in my life ... it was my last year of high school and I had signed with a Belgian development team. So once I got back on my bike in December/January, I was full-on road prep. My plan was to go over and race with that team. I had done no bike races been Junior Road Worlds and Track Nationals, except a few Friday night races at the Burnaby velodrome. But it had really been six months since I had raced my bike.

I had done a camp in Spain with my team and was out on the road trying to bank miles and get road fitness. So, going into it [Track Nationals] I don't think I was in the mental headspace of track racing at all. I had won a bronze medal the year before at the Junior Worlds in the Omnium, so I had confidence from that. And after being undefeated in bunch and sprint events, I put a lot of pressure on myself to do well.

So I get there - we flew in two days before it started - and the second day before it started we went to Niagara Falls, my dad [her coach] and I, and missed open track [training] that night ... and that didn't help; that was kind of an oops!

The next day, the first event up was the Individual Pursuit, and I held the national Junior IP record and was expecting to do well, so when I qualified second it threw me for a loop, and I barely made it into the final [finishing second with silver].

My dad's really good at dealing with me when I don't do well ... I don't handle it well right away! We have a rule that if I don't do as well as I expected, I need 15 minutes - just don't talk to me, give me space, let me work through this. After 15 minutes I have to turn it around and I have to be ready to go again.

So after the first day I just had to get myself back into the right place. Ever since I was young, every race I've gone into, I would say to myself that I was going to win it. Even when I was 13 years old and racing in B.C. Superweek, and the odds were not in my favour, or going into the IP at Track Nationals, I would tell myself that I could win it. So not winning that first one after being so confident, I had to get my head back in the game.

I ended up with golds in all the individual events except for that IP [Sprint, Keirin, Points, Elimination, Scratch, 500m TT]. In the Points Race, I went into it knowing I had the strongest sprint and could probably win any of the intermediate sprints, so we changed my goal to try and take a lap, which I had never done before. I ended up in that race taking two laps, and I want to say that that race really set me up for my gold medal in the world championships later in the year, because I needed to take a lap there to win.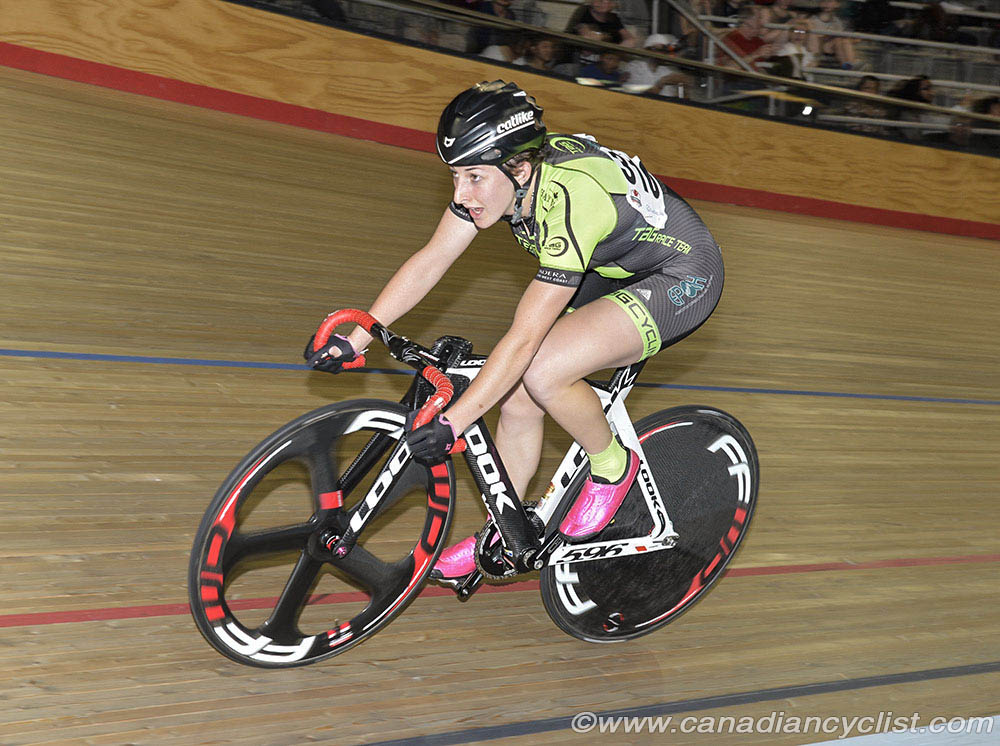 Points race
This was the first and last track race in 2017 I did before the Worlds. I didn't touch the boards again until the Worlds in August, so this race really was key in setting me up for that. I think that having taken a lap and having proved to myself that I could do it was pretty big and set me up to win that world championship. That was probably the most notable part of the bunch racing.

I think people see someone taking a lap, and sometimes it looks pretty easy, but I think it is one of the hardest things to do in a race. At the world championships, I had never felt so close to vomiting on the track as I had while trying to take that lap. That was pushing myself outside of any kind of strength or mental toughness that I knew I had. It's absolute agony out there, like torture.

Another really notable part of that Nationals was the Sprint tournament. I had been undefeated in any sprint event, except for the 500, in the past three years, and then I ended up against Charlotte Creswicke, who was specializing in sprint. It was probably for both us the biggest moment of that Nationals. Probably the hardest race both mentally and physically that either of us had done like it. It felt like the world championships or Olympics for both of us at that time, I think. Nothing matter more than winning each sprint event. Because she had been preparing just for this, I knew I had to use the endurance I had to my advantage. I put on a smaller gear and went hard from the line in the first ride, but she caught onto that tactic pretty quick and got me in the second ride. So it came down to the third ride, which I ended up barely winning.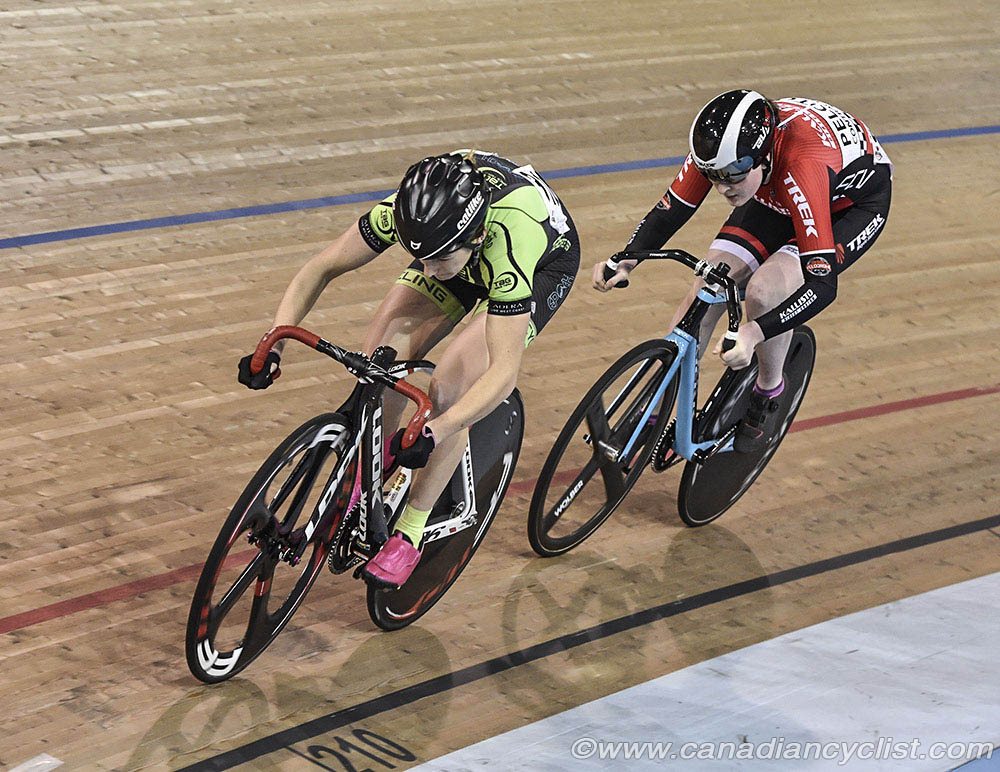 Women Sprint
We talked about it after, and we were really close after and became friends, and she was at Junior Worlds with me later that year. It was a big moment, and really challenged both of us to dig deep. I would say I'm more of an endurance sprinter than an endurance rider, and she was a straight up sprinter. I think for both of us it was a really special race.
In the Team Sprint I got third with my TaG team mate Micalah Besler, and then later in the Madison we won gold. That was the first Junior women's Madison in Canada, so that was a pretty special one to win. There weren't that many teams racing, but just to be part of that, the movement to equality [of events for men and women] ... suddenly the women now had a Madison and we were part of that first wave.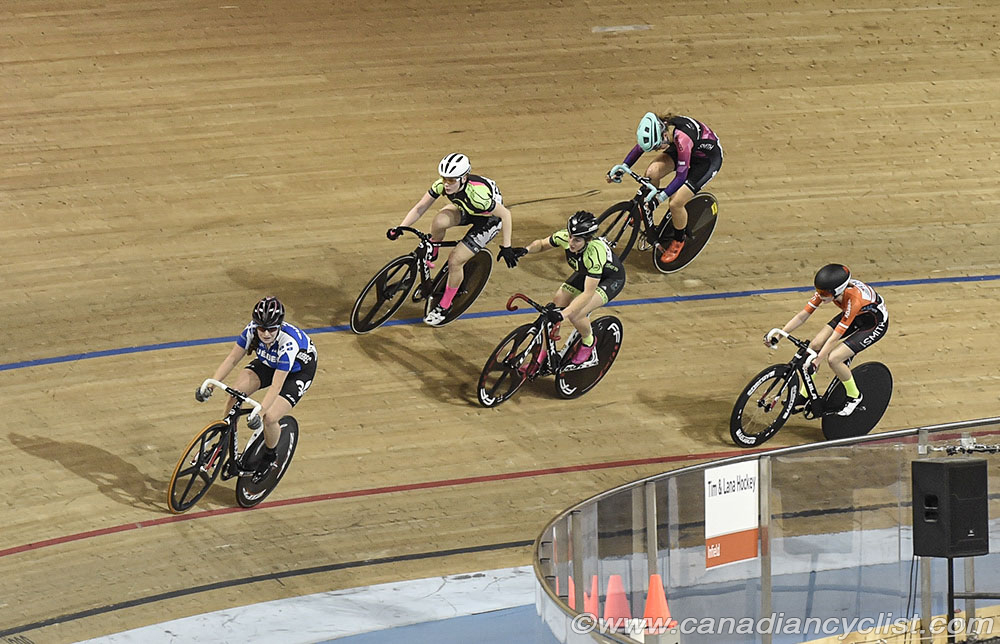 Madison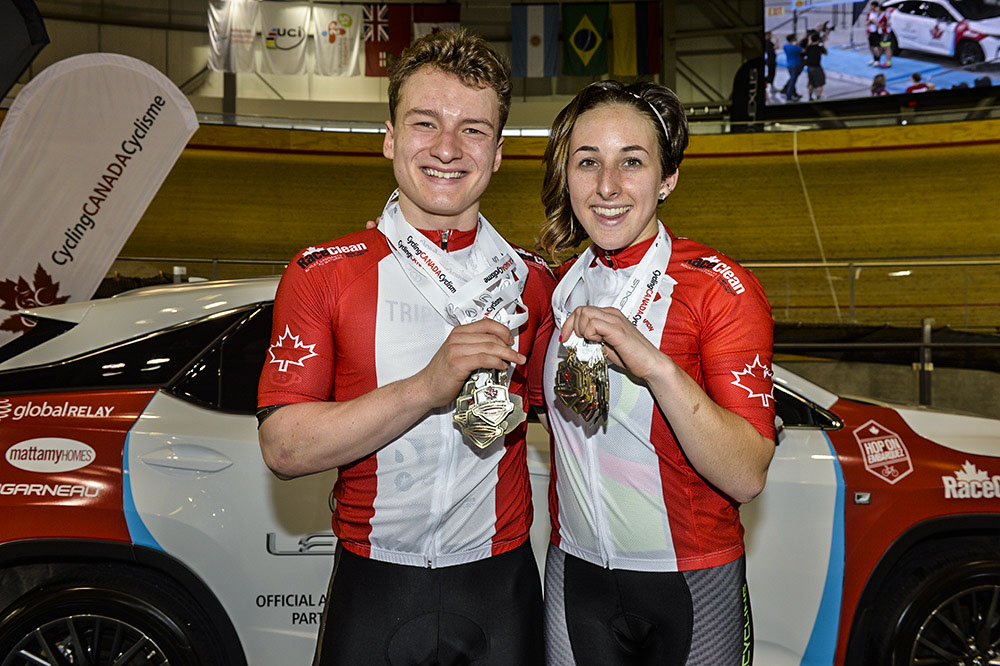 Riley Pickrell and Maggie Coles-Lyster with their medals
Coming out of Junior Track Worlds I had the gold in the Points Race and silver in the Omnium, but the transition [to the senior ranks] was a bit harder for me than for some other riders. In January 2018, as an elite, I went to Minsk and raced the World Cup, where we got a bronze medal in the Team Pursuit, which was pretty amazing.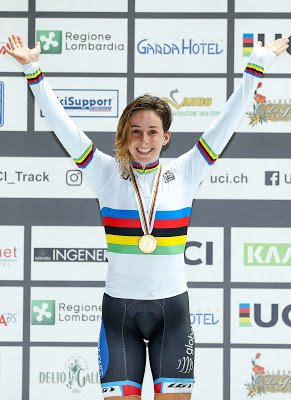 Track Worlds
I stayed over [in Europe] and did some more races, including the Copenhagen Six Day, my first Six Day, and crashed on the very last lap of the very last race. I broke my face and punctured my lung and got a bad concussion. I had been on a high, doing fairly well in races in Belgium, when I had that crash. Then I had another crash on the road two months after and concussed myself, and then later that year at Track Nationals [October] I crashed and concussed myself again. So, in 2018 I had the challenge of being up with the elites in stronger, faster, harder racing, as well as constant recovery from crashes.

It was probably the hardest year I have ever had in sport; mentally and physically. I ended up doing lots of work with sports psychologists. There were times during the year when I was terrified to be racing; and for a rider who had always been super aggressive and racing at the front ... suddenly I'd be in the middle of a race and find myself at the back ... I would just check out during a race.

It took a lot of work and a lot of support; I'm so lucky I have my dad working with me because he has been incredibly supportive and has helped me come back from that. Last year, 2019, was a big year for me just getting back to where I was, previous to 2018. I had some really great results that I was proud of last year. I realized that I was back to place where I can do this.