May 24/20 11:22 am - Race Revisit - 2019 Baie-Saint-Paul Canada Cup with Leandre Bouchard

Posted by Editor on 05/24/20

Today is the latest in our series - Race Revisit - where we return to a past event that took place on (or around) this date. As well as a recap of the event and links to our original coverage - race reports, results, photos and video interviews - we will also be trying to include comments and in-depth commentary from some of the Canadian athletes who were there.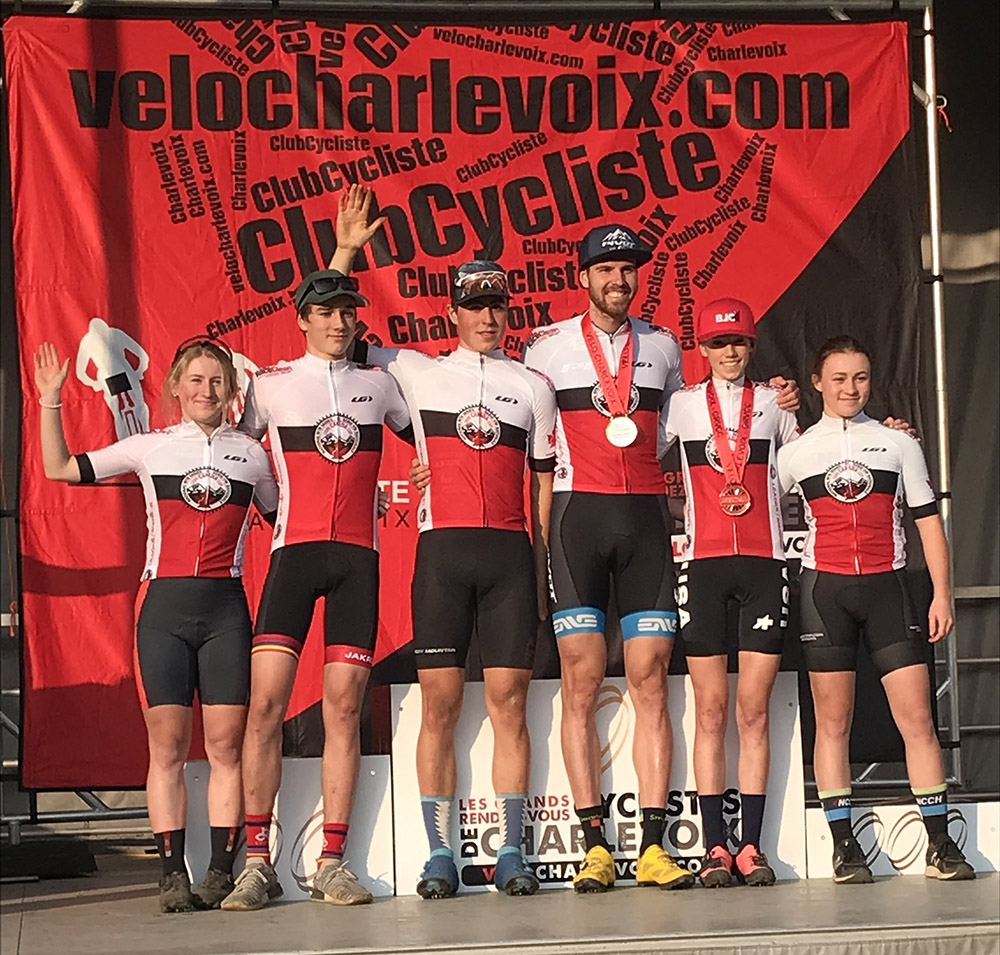 Today, we are going back to June 1, 2019, and, surprisingly, the first ever Elite category Canada Cup win for Leandre Bouchard. Leandre is a pro racing with Pivot Cycles-OTE and formerly BH-Suntour, as well as representing Canada at the 2016 Olympics and many world championships but, until this race, had not won an Elite XC race in our national domestic series. Leandre won the five lap race ahead of team mate Raphael Auclair by 1:16, with Andrew L'Esperance (Norco Factory) finishing third, another ten seconds back. He also won the Short Track that weekend. Jenn Jackson (AWI Racing) won the Elite women's race ahead of Laurie Arseneault (CC ACQ) and Maghalie Rochette.


Results

Report

Leandre spoke to us from his home in Alma, where he has been self-isolating, as well as Eversting on Zwift to raise funds for the Fondation Hôtel-Dieu d'Alma [see Quebec Riders Raise $23K with Everest Ride].

You have done well at Baie-Saint-Paul over the years - won as a Junior in 2010, second at Elite Nationals in 2016 and won here last year. But, I was surprised to learn that this was your first Canada Cup win as an Elite rider.

Yes, that is correct with my previous results here, and it is a bit of a funny fact that it has taken me so long to achieve a win at the national level after all my international racing. Baie-Saint-Paul was the second Canada Cup I raced in as an Elite rider, and it has been quite good for me, with a third the first time I raced there, despite a flat tire. I think it suits my technical riding abilities and also it is pretty close to home; only two hours to Alma.

Why do you think it took so long to win a Canada Cup; is it just that you don't race very many of them?

I think I have been putting my focus more on international racing, so I did not race too many Canada Cups. So the only ones I raced were ones that fit with the international racing calendar. Also, maybe a bit of bad luck, and tactically it is different that the World Cups.

At the Canada Cups it is usually a small group at the front together, and at the World Cups it is full gas from the start to the end. So the preparation is different. So, last year, when I won, I treated it more like a World Cup. I just went all out and saw who could stay with me. Normally, I would have played it a bit more tactically, but that doesn't fit me as well mentally.

What do you remember as to how the race played out?

I had a good start and was positioned well. It was a strong group at the beginning and Andrew L'Esperance was pushing the pace on the first lap, so I was surprised that we were still a good group. But sometime late on the first lap or early in the second lap I found myself at the front and took a gap. From that point I just continued to focus on my form and getting the best out of myself, which helped me build a comfortable gap.

You've been to the Olympics and had some strong international results, so how important is this Canada Cup win?

For me, this was something on my checklist. I wanted to prove that I could also win at a national level. When we do international races, we don't win that often, so to get that test of winning again is good. I've won at a provincial level and have a few national title wins as well, but they are quite elusive, so it is good to get that feeling.
Race revisits

Race Revisit - 1987 Tour de Beauce with Ivan Waddell
Race Revisit - 2012 Chrono Gatineau with Clara Hughes
Race Revisit - 2019 Nove Mesto MTB World Cup with Haley Smith
Race Revisit - 2014 Giro d'Italia with Svein Tuft
Race Revisit - 1990 Paris-Roubaix with Steve Bauer