June 18/20 17:49 pm - Race Revisit - 1994 Tour de Beauce with Jacques Landry

Posted by Editoress on 06/18/20

Today is the latest in our series - Race Revisit - where we return to a past event that took place on (or around) this date. As well as a recap of the event and links to our original coverage - race reports, results, photos and video interviews - we will also be trying to include comments and in-depth commentary from some of the Canadian athletes who were there.

We are continuing today with a week of coverage for the Tour de Beauce. The Tour de Beauce would have been celebrating its 35th anniversary this year, from its start in 1986. Founded by Jean Lessard, it is a legendary race for Canadian men on the road and the oldest UCI-sanctioned stage race in North America. Beauce is known for the weather - ranging from scorching heat and humidity to snow atop Mont Megantic, as well as pouring rain and hail. The courses are relentless - more than one rider has said to me over the years that there is nowhere to rest or hide at Beauce. And then there are the roads ... rough and potholed; they beat a rider up and invariably result in punctures. First time attendees always say at some point 'The roads...', almost with a sense of awe - and they are a LOT better then 20 years ago!
Canada has had nine winners in the past 34 years of Beauce, with most in the early years before international teams began attending. We are going to talk with a number of them this week - we began yesterday with 1987 winner Ivan Waddell, and today we talk with 1994 winner Jacques Landry.

Landry was a member of the Seldane Radio-Mutuel squad, along with Sylvain Beauchamp, Luc Provencher, Eric Wohlberg (who won Beauce the next year), Daniel Belleville and Francois Villemure.

Once again, there is not a tremendous amount of information available on the stage-by-stage results. Landry took the overall win with a time of 15 hours, 53 minutes and 12 seconds for five stages. Australian Jeff Stoble (Jayco) finished second, five seconds back, with Anthony Bergeron (Espoirs de Laval) third at 23 seconds, tied on time with team mate his Peter Wedge. Other Canadians in the top ten include Beauchamp in fifth, Steve Rover (Espoirs de Laval) in sixth, Gord Fraser (Control Data) seventh as well as winning the final stage, Jason Crookham (Toronto Italia) ninth and Matt Anand (Control Data) tenth. Jacques believes from his memories that he took over the race lead after Mont Megantic. If anybody has additional materials - results, photos, etc., please let us know.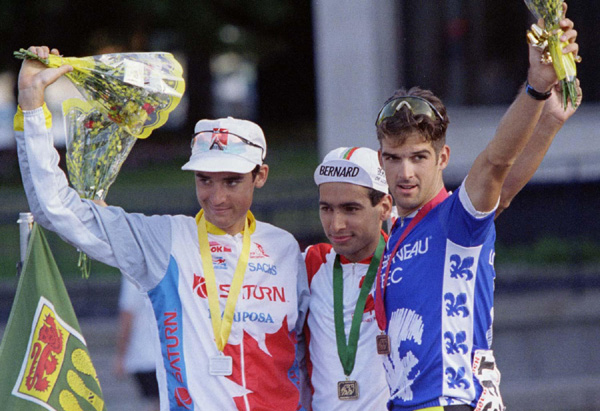 Jacques Landry (far right) 3rd in Nationals RR in 1995
Jacques spoke to us from New Zealand, where he is the CEO of Cycling New Zealand.

Beauce is - and I hope continues to be - a staple in every Canadian male road rider's career. It's the launching pad for riders that go to Europe - James Piccoli [2018 winner] is an example. For me, ever since I turned senior it was a race I always wanted to go to and do well at. It's always been a tough race, just because of slow roads and there's no momentum, you just have to keep on going.

I remember preparing for the '96 [Olympic] Games, Denis Roux, our coach at the time, who was European, wasn't bashing Tour de Beauce, but he was saying 'oh, it's a Canadian race'. And Steve Bauer had just done it as preparation [for the Games, finishing third at Beauce]. We were doing a race in Germany, and Steve stopped and said to Denis, 'Listen, I've done it and this is one of the toughest stage races I've ever done', and Steve had done the Tour de France a number of times.

It's relentless, you can't hide anywhere. Rain, windy conditions, Megantic and everything. For me, it's always been a really tough race, and I feel privileged to be on the roster of people who have won it.

I was racing on Seldane at the time with Josée Robitaille [team director] and it took tremendous team effort to get the jersey and finish the race in the winning position. I really enjoyed the race, but it's tough for sure.

I think it was after the Megantic stage that I took the jersey; I didn't win the stage, I think Anthony Bergson won it [unconfirmed], I finished third and I think Peter Wedge was second [unconfirmed]. So, I finished third but with the accumulated time took the pole position. After that, it was a question of maintaining it and doing a lot of tempo riding with the team.

With Beauce, it is a bit of a crap shoot with the early stages, because if you miss the first break of, say, 15 guys that went up the road and took 20 minutes, then your Tour was done. It's a race where you have to be vigilant all the time and be at the front.

You're exposed to the elements because of the crappy roads - punctures are something that happen all the time, and another year I missed the break because of punctures three times. So it's tough.

I've tried to think about what stood out and, to me, it's the Megantic stage, which makes the race. But the different editions of Beauce blend into one for me, so it's hard to say, 'okay, this is what happened in '94' from memory.

Megantic is always the one stage where you wake up in the morning and you have butterflies in your stomach, because you know it is the decisive stage for the ones that are in contention for the overall, and for the person wearing the jersey. Megantic morning you are really, really nervous because anything can happen.

I seem to remember we were in an early break of 10-15 riders and we forced the pace and we hit the base of Megantic and everything played out on the hill. You can lose the race big time there.

For me, I think [winning Beauce] was a big one. The unfortunate thing with Beauce is that it is not recognized in Europe that much. I came out of Beauce thinking it would give me a bit more of an opportunity to be noticed internationally, in Europe, but that was really not the case, unfortunately.

For me, when I look back at my career, there are two defining races - Tour de Beauce and GP des Nations, which I won in '94 as well; '94 was a good year for me, I got ninth in Tour of Normandy as well. But Beauce is a big one for me; I came out of that season knowing that I had the potential to move up in the pro ranks. Obviously, that didn't happen as much as I would have liked, but Beauce was up there.

Given the difficulty of Beauce, I honestly think it is underestimated by Europeans. In 1992 I finished third and Jean-Christophe Currit from France won, and I remember him saying, 'holy crap, Beauce is a tough one'. I think a lot of Europeans came in thinking it would be easy pickings and it never was.

I definitely have fond memories of the race, even though the weather conditions are usually pretty crap. You have to be well prepared for anything that could happen, because almost certainly something would happen!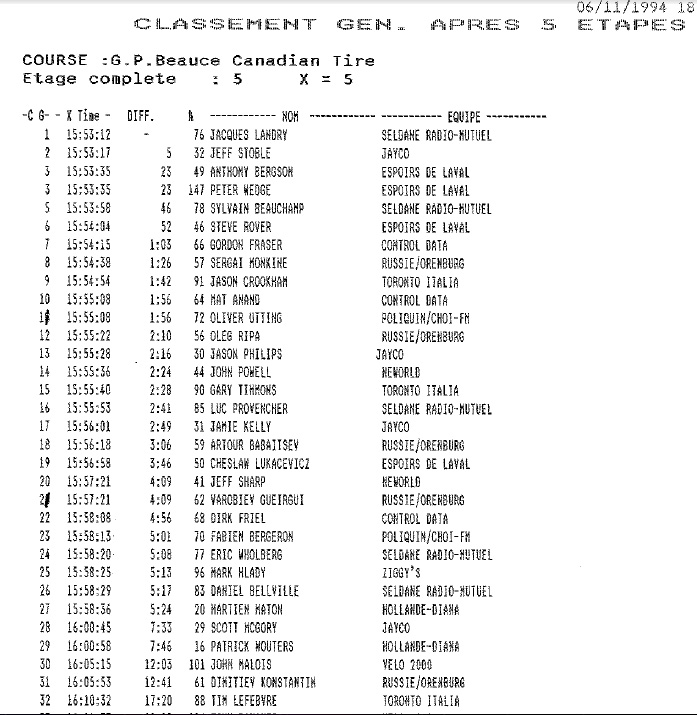 Previous Race revisits

Race Revisit - 1987 Tour de Beauce with Ivan Waddell
Race Revisit - 2012 Chrono Gatineau with Clara Hughes
Race Revisit - 2019 Baie-Saint-Paul Canada Cup with Leandre Bouchard
Race Revisit - 2019 Nove Mesto MTB World Cup with Haley Smith
Race Revisit - 2014 Giro d'Italia with Svein Tuft
Race Revisit - 1990 Paris-Roubaix with Steve Bauer