June 23/20 15:25 pm - Race Revisit - 2008 Tour de Beauce with Svein Tuft

Posted by Editoress on 06/23/20

Today is the latest in our series - Race Revisit - where we return to a past event that took place on (or around) this date. As well as a recap of the event and links to our original coverage - race reports, results, photos and video interviews - we will also be including comments and in-depth commentary from some of the Canadian athletes who were there.

We are continuing today with our week of coverage for the Tour de Beauce. The Tour de Beauce would have been celebrating its 35th anniversary this year, from its start in 1986. Founded by Jean Lessard, it is a legendary race for Canadian men on the road and the oldest UCI-sanctioned stage race in North America. Beauce is known for the weather - ranging from scorching heat and humidity to snow atop Mont Megantic, as well as pouring rain and hail. The courses are relentless - more than one rider has said to me over the years that there is nowhere to rest or hide at Beauce. And then there are the roads ... rough and potholed; they beat a rider up and invariably result in punctures. First time attendees always say at some point 'The roads...', almost with a sense of awe - and they are a LOT better then 20 years ago!

Canada has had nine winners in the past 34 years of Beauce, with most in the early years before international teams began attending. We are talking with a number of them this week - we began with 1987 winner Ivan Waddell, then 1994 winner Jacques Landry, 1995 winner Eric Wohlberg and, today, 2008 winner Svein Tuft.

2008 was a breakout year for Tuft, beginning with his Beauce win - the first by a Canadian in 13 years, since Eirc Wohlberg in 1995. Tuft went on to finish seventh in the time trial at the Beijing Olympics and then finish the season off with a silver medal in the time trial at the world championships. He signed to the ProTour at the end of the season.

In 2008, Tuft was part of one of Canada's greatest ever men's road teams - Symmetrics. It was a squad stacked with talent in 2008, with Tuft joined by Cam Evans, Christian Meier, Jacob Erker, Andrew Pinfold, Zach Bell and Andrew Randell.

Mexico's Bernardo Colex Tepoz (Tecos Trek UAG) won the opening Lac Etchemin stage solo to take the yellow jersey, with Tuft part of a small chase group of 19 to come in 26 seconds later. Tecos controlled the field for the second stage, with Yuriy Metlushenko (Amore E Vita-Mcdonald's) winning the bunch sprint. The following Mont Megantic stage shook the general classification up, with Olympic mountain bike champion Miguel Martinez (Amore E Vita-Mcdonald's) winning ahead of Colex. Tuft had a strong ride, finishing seventh on the stage and moving up to seventh on the GC, 51 seconds back. This put him in good position for the 20 kilometre time trial the next morning, and the Canadian champion crushed the competition, winning the stage and beating Colex by 58 seconds, to put him in the yellow jersey by seven seconds. The criterium later the same day made no changes to the standings, leaving Symmetrics to defend over two hard circuit stages - first in St-Georges and then the final stage in Quebec City. Symmetrics managed their plan to perfection both days by allowing a small, non-threatening group go off the front, while maintaining a high enough tempo to discourage attacks by contenders.

Stage 1
Stage 2
Stage 3
Tuft Interview
Stage 4
Stage 4b
Stage 5 Report
Tuft Interview
Stage 5 Report Results
Stage 6

Svein spoke to us from Andorra, where he and his family are in the process of preparing to move back to Canada.

I don't really get worked up about results, but that [winning Beauce] was a very important one for me. It was a very interesting year; Symmetrics was falling apart and there was a bunch of stuff going on with the Olympic selection, as per usual. So, over the entire [previous] winter I wasn't really biking; I was still super keen on working hard, but I was mostly cross-country ski touring up in Rossland. One of my first races that year was Pan Am Championships in late April [actually early May]; I wasn't racing a lot, but the races I did, I made the most of [Tuft won four gold medals on the track and road]. It was a very special year when I think back to it. It was very pivotal; things could have gone so many directions at that point.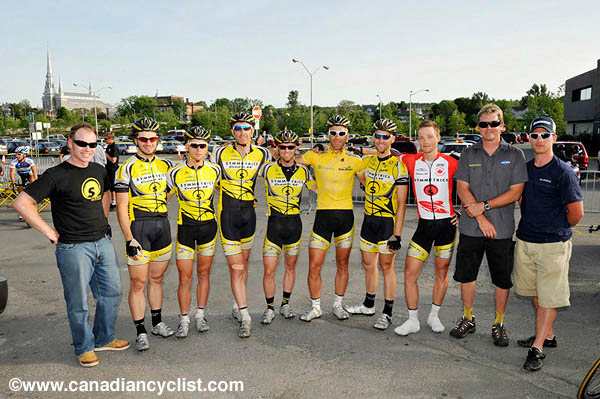 2008 Team Symmetrics at Tour de Beauce
As a Canadian, we don't have many races that I can truly call a European-style UCI race. I think that's what Beauce is. For all the guys who have raced in Europe, you can truly say 'that's one of North America's hardest stage races'. If you look at the list of race winners, it's a lot of really strong dudes from all over the world. Beauce has always attracted ... not the A squads, but they've had the very strong European mix there.

We all know it's really hard to win a [U.S. series] NRC race but a UCI race brings in a whole other contingent of continental teams. It steps up the game that much more and the parcours ... it's just hard to race; it's windy, the roads are rough, it's just roller after roller. You don't have any mountains other than Mont Megantic, but all day you are either going up or down on these big hills. And it's not just that they are climbs, but they are crosswind climbs. So it really throws a lot at our younger guys, and I think for young Canadian riders it is such an important race. That's why I've always believed it is such an important race for us Canadian guys.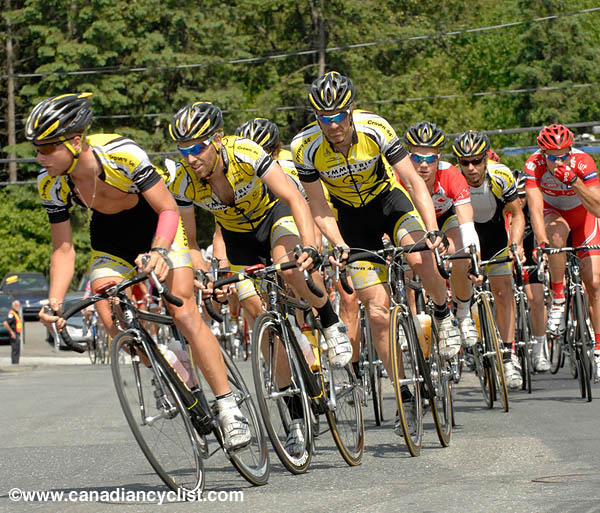 Symmetrics

At that time with Symmetrics, I wanted our team to win it. We had all the boys there to win the overall, and I was so proud of what we did in 2008. It was a mix of everything coming together; the right form at the right time and just showing the depth and strength of our team.

I pointed out to Svein that he was tied for most stage wins at Beauce, with five - Vassili Davidenko (Russia) is the other. Gord Fraser has four.

Really? I thought someone else would have soaked up more. I would have thought a sprinter might of had more, but I guess that is partly the nature of Beauce; it's not necessarily a sprinter's race, it's more of an aggressive attacking style guy, or a time trialer who can ride up the hills a bit. It's rare that I can beat Gord in stage wins at anything!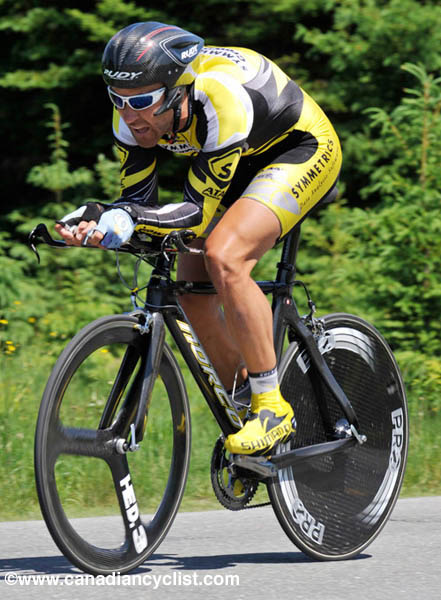 ITT where Tuft took the jersey
Svein was 51 seconds back after Megantic to Colex, with four stages remaining.

He [Colex] was a wily little guy, and we just assumed that there was no way this guy could time trial, so [his lead] wasn't a big concern. We just figured we would roll him in the time trial, but the guy had the ride of his life [finishing fourth], so he stayed really close. I remember it was quite tight.

Our biggest concern was the St-Georges circuit race, with all those corners. Things can go sideways there. We controlled the St-Georges circuit, but the big showdown was Quebec City, which was totally different. We knew it was going to be the last time up that bloody climb [Cote de la Montagne].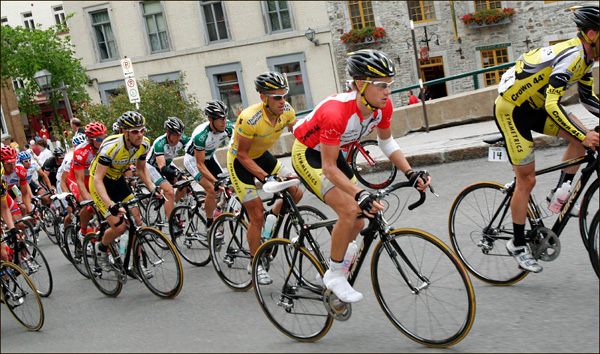 Quebec City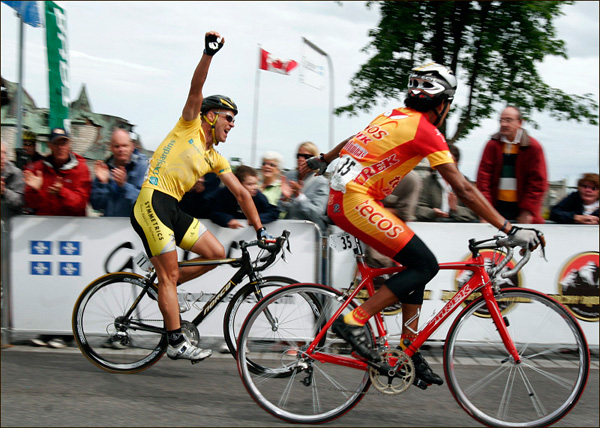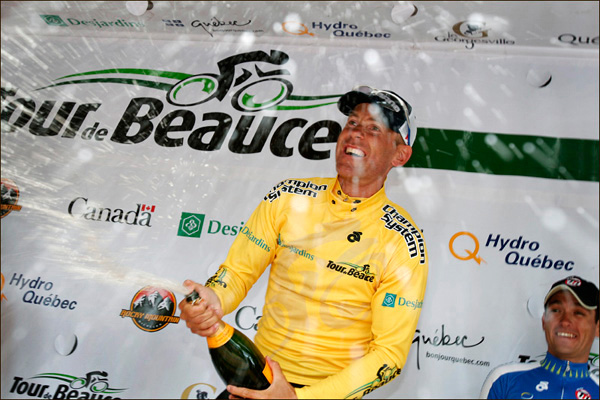 Final celebration
Man, hanging onto that guy's wheel ... I've never pushed that hard in my life. He was throwing everything at me and he was probably 20 kilos lighter than me. But there was no way he was dropping me because of the work the boys had done. I remember getting dropped off [by team mates] at the base of that climb, and as soon as we hit those steep ramps ... I was hurting so bad, but all I was saying to myself was 'you can't lose this guy's wheel'. For all the work the boys had done there was no way that guy was dropping me. And I made it.

Just talking about it is bringing some flashbacks, but for sure that moment in Quebec City was the big one. It's great to hang out on Megantic, have a great TT and control the St-Georges circuit, but that finish for a guy like me up that particular climb was pretty brutal. That brings back some really great memories.

I think that was about our last big hit out as a team. That year, the decision was 'you don't get paid, but we can keep racing'. Everyone opted to keep racing.

I asked Svein what made Symmetrics one of the most successful team in Canadian history?

For me, it's one of my best memories as a bike racer. It was a far simpler time in bike racing, where we were just having fun. We weren't forcing anything, we were just letting things fall into place. The guys were all serious, but we were also having a lot of fun. It became like a brotherhood. So when moments came like the Tour of Cuba, where we really had to [give it all] out for each other, everyone was 100% in. That makes such a difference when you have that quality in a team; compared to a bunch of guys who are just trying to survive. We were a real band of brothers, you could see through the way we raced and the progression we had in quite a short time.

I came onto that team in 2004, and by 2007 we had won the Americas Tour title and taken our share of pretty decent wins for a continental team.

It was at the end of the 2008 season that Svein signed to a ProTour team.

That was a pretty funny thing, because I never really wanted to do that at that time of my life, but it was more of just an opportunity. I was just, 'we'll see how it shakes out'.

It took another ten years for a Canadian to win Beauce - James Piccoli - and Svein was there on the national team with him, as a mentor.

That was really special ... sometimes, when you are coming back to these national team projects it sounds great, when you are planning it - way before the Giro, in my case - but when you get there, it's, like 'aw geez, what am I doing here?'. But, it turned out to be one of the most enjoyable times I've had on a bike. I feel like, out of all the races I've done on a bike, Beauce could be one of the ones I've done the most, and also been close, fighting for the overall [Svein was also second overall twice, in 2005 and 2007 and third in 2011].

A guy like me doesn't have many opportunities like that on the WorldTour. So I've seen that race many times in my life, and I remember sitting with those guys [2018 national team] and talking about the patterns of that race. I knew that you need a very strong team to control that final day, and the team we were in contention with [UnitedHealthcare] didn't have that; they rode well together, but they didn't have the engines that they needed to control it, because it's a beast.

I remember telling the boys, 'we don't panic for the first four stages, and then we start throwing everything we have'. You can be a minute down and still win the overall when you hit those final circuits if you have a good day.

It was so fun to be able to share some of that experience and stuff that I had learned over the years. I didn't really know James that well, but I started seeing the calibre of rider that he is. He has his own way of riding, but that's something I respect; [he's] looking outside of the box and doing things a bit differently. That makes him stand out.

I saw those things in him and how bloody strong he was. He took the race by the horns and ran away with the win, with a pretty nice upset. We also took the KoM jersey with Ben Perry, so it was just a fantastic experience. We had some young track riders, who were definitely on their toes; absolutely suffering out of their minds. I enjoyed coming back that year, because it was so different from the world I had been in; I had just come a very hard Giro, so I was hammered by the time I reached Beauce. So it was refreshing to be with these young guys just ripping it.

Going back a bit ... I remember in 2001 - your first Beauce, I believe, you and Henk Vogels went off on that super long breakaway on the third stage.

I think it blew up to 21 minutes before they started chasing, and I think at the end we had something like two or four minutes [4:02]. There was a Tecos guy [Florencio Ramos] with us who was just sitting on the whole time, just going for the KoMs, and Henk came up to me as we were going over a climb, and said, 'he's not having any of this, get on my wheel, mate'. We went rocketing over the top of the KoM, Henk goes into an aero tuck ... the first time I had seen an aero tuck ... he had Spinergy [wheels] on, an aero bike and I'm sprinting to just hold his wheel. We go by this Tecos guy, and we are doing 100, 110 K an hour down the descent and we lost the guy, and started swapping off in a two man TT to the finish [where Vogels won, to take the jersey, eventually winning Beauce].

Henk Vogels asked me afterwards: "Who was that guy? He came so close to cracking me.".

That's good to hear! Too bad I didn't know that then. The thing is, anything can happen at Beauce, and that's something I started to miss in the WorldTour; that little bit of craziness. On those first few stages, anything can happen at Beauce.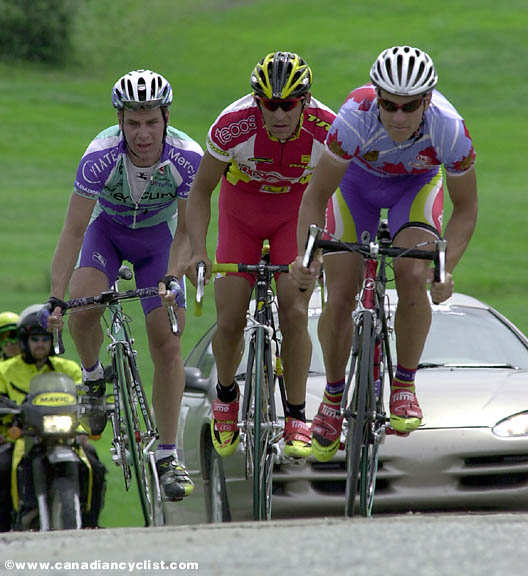 2001, Stage 3 breakaway members (L to R) Henk Vogels (Aus) Mercury-Viatel, Florencino Ramos (Mex) Team Tecos, Svein Tuft (Can) Team Canada
Previous Race revisits

Race Revisit - 1995 Tour de Beauce with Eric Wohlberg
Race Revisit - 1994 Tour de Beauce with Jacques Landry
Race Revisit - 1987 Tour de Beauce with Ivan Waddell
Race Revisit - 2012 Chrono Gatineau with Clara Hughes
Race Revisit - 2019 Baie-Saint-Paul Canada Cup with Leandre Bouchard
Race Revisit - 2019 Nove Mesto MTB World Cup with Haley Smith
Race Revisit - 2014 Giro d'Italia with Svein Tuft
Race Revisit - 1990 Paris-Roubaix with Steve Bauer