June 27/20 11:29 am - Race Revisit - 2004 Road Nationals with Gord Fraser

Posted by Editor on 06/27/20

Today is the latest in our series - Race Revisit - where we return to a past event that took place on (or around) this date. As well as a recap of the event and links to our original coverage - race reports, results, photos and video interviews - we will also be including comments and in-depth commentary from some of the Canadian athletes who were there.

Traditionally, the Road National Championships have taken place around the last week of June, so we are going to look at some of those over the next few days. To be a national champion in cycling is rather unique in the sports world, because it gets recognized every time a rider races over the next 12 months. Everywhere a rider competes in the world they have the right to wear the maple leaf identifying them as the Canadian champion, and race organizers usually recognize national champions in the call up to the start line. If the rider is on a pro team, their team usually has a special design ready to go quickly.

Canadian Cycling Hall of Famer Gord Fraser, is a three-time Olympian and winner of over 200 races, however, won the men's road title only once, in 2004, in Kamloops, BC. The heat that had sapped the strength of riders all week showed no signs of abating on the final day of the championships for the women's and men's road races, topping 35 degrees during the men's race. The ten kilometre circuit was simple in design, and incredibly hard - start and finish in the valley, in downtown Kamloops, and climb three kilometres up out of town each lap before a quick descent. The climb went up in steps, with some portions better than 10%, and many riders, including women's winner Lyne Bessette and Fraser, called it the hardest Nationals course in memory. The women had to do 12 laps, and the men 18. In the women's race, only 12 riders finished on the same lap as Bessette, while in the men's race there were 14 finishers.

Five laps into the men's race there was a breakaway group of five riders with a minute on a chase group of four, with the peloton - including Fraser - another minute back. Another two laps later and two danger men - Eric Wohlberg and Svein Tuft - attacked out of the peloton, bridging across. Fraser recognized the danger and bridged across solo to the lead group.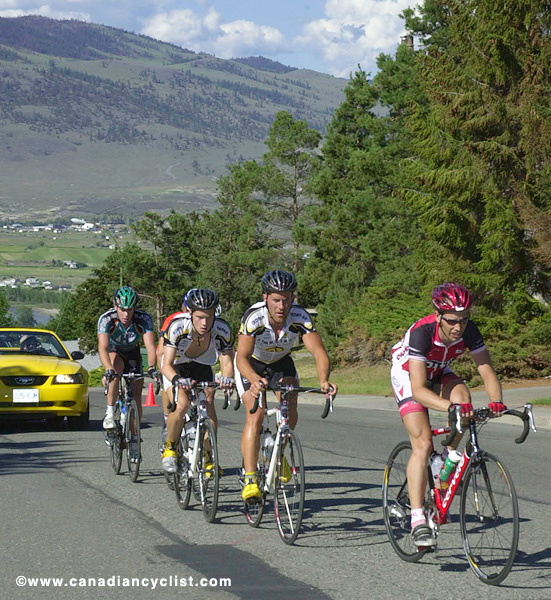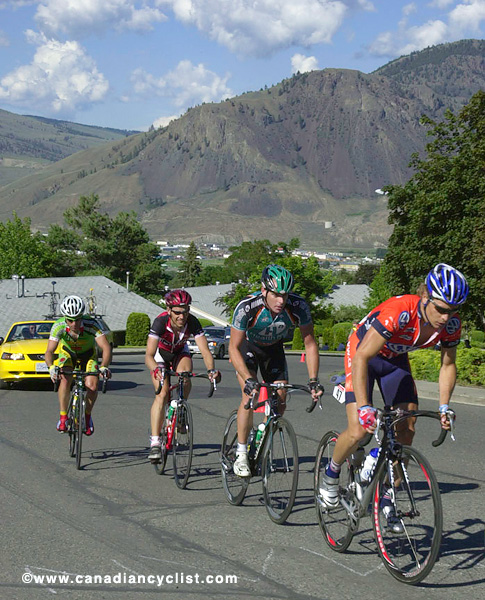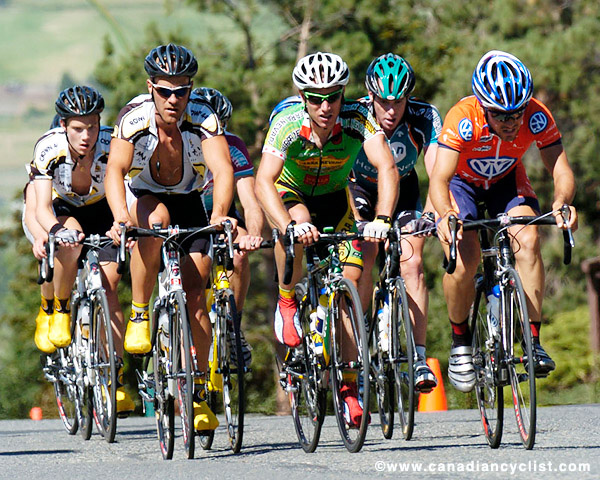 Break
With 35 kilometres to go, there were six riders left at the front - Fraser, Wohlberg, Cam Evans, Tuft, Alexandre Lavallee and Andrew Randell. Evans was the only Espoir rider in the group, assuring himself the national title. The heat was affecting everyone, with Wohlberg dropping off at the start of the last climb with cramps, and then Lavallee attacking. Evans led Fraser and Tuft back to Lavallee, and then Fraser launched the race-winning attack over the top of the climb, descending to the finish for a solo win. Tuft took second, with Lavallee third, Evans fourth and Randell fifth.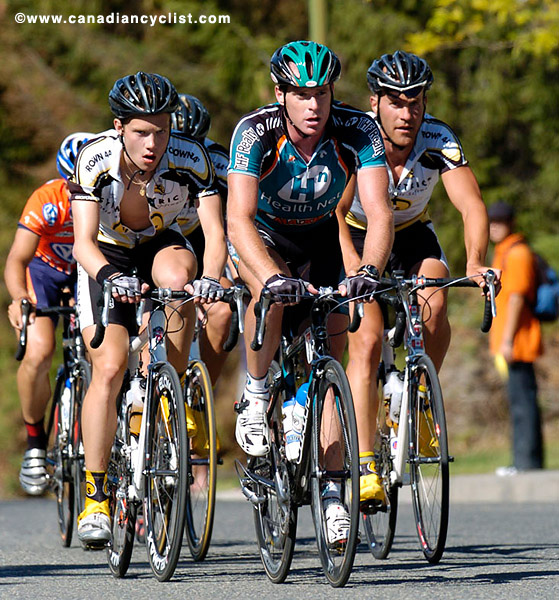 Cam Evans, Gord Fraser and Svein Tuft at the front
Fraser had had a frustrating time at previous Nationals. His sprinting prowess has meant that he is a marked man in breaks, with many falling apart as soon as he joins them, which led to him skipping Nationals for a number of years. On the podium, after receiving his maple leaf jersey, he lifted it to his lips and kissed it. His win solidified his spot on the 2004 Olympic squad. 2004 was a good year for him, with seven wins in addition to the national title and the Points Jersey for both the Tour of Georgia and Tour de Langkawi.


Results
Report
Photos
More Photos

Gord spoke to us from Tucson, Arizona, where he has lived for many years.

I had basically started avoiding Nationals. I took a couple of stabs at it - I was second in '94, in Edmonton, and then I didn't go again until '98, in Abbotsford [B.C.], when my team mate, Mark Walters, won, which was cool. Then in '99, in Sherbrooke [Quebec], I just got worked over by the Saturn guys - Brian [Walton], Michael [Barry], Matt Anand - and then everyone else took their shot at me. I mean, if I would cover something and get to a move, it would just break down and nobody would work ... I remember quitting Sherbrooke in frustration.

In 2000 I thought I might have a shot because it was Olympic Trials and I was prequalified as the top Canadian on UCI rankings. I had my ticket booked to Sydney and there were, I believe, six guys on the long list, and whoever was the top finisher would get an Olympic spot. So, I thought I would have a bit more freedom because I didn't count against the Olympic spot, but one of the guys on the list - Dom Perras - was in the break and Svein Tuft, and they were game to pull hard, but we never really got a big gap, so it came back together, and I got second there. So, I took a break from Nationals for 2001 - 3, but I did go to Kamloops because again it was a double dip - Nationals and the Olympic Trials.

In my opinion, I still thought I was the top road racer in Canada; in '04 I had already won two stages of the Tour of Georgia, beating Mario Cipollini and guys like that. So I thought I was still the top dog, but I was 36 years old and racing primarily in North America, so I wasn't sure about [being selected] for my third Olympics, and came to Kamloops.

One of the main cheque writers and sponsors of the Healthnet cycling team [Gord's team at the time], a guy named David Brome; his in-laws were from Kamloops! So he had flown up and was visiting his in-laws, and he was a big proponent of the team and a cyclist himself. So I stayed at his in-laws' house and they took care of me, and he came to the feed zone, which was incredibly important in Kamloops because of the heat. So I had this amazing support from one of the main sponsors and decision makers for the team. So there was quite a bit riding on this race!

The course [in Kamloops] was quite difficult. It was a couple of K from the bottom of the descent through the finish line and then the beginning of the climb. So it was about a 2K flat section and then a big long climb before a bombing downhill type of descent. Kamloops, in the interior of B.C., is about the hottest place in the country, and it was definitely over 100 degrees [Fahrenheit] on race day. It was super hot.

I was stopped at the top of the climb on a pre-ride - I've told this story before - and the Quebec team rolled up and a bunch of them were laughing and - I'm pretty sure it was Dominique [Perras] but he disputes this - and he said 'well, you've come a long way for nothing. We were laughing - Dom's a very funny guy - and I didn't take it poorly. But it definitely struck a nerve and I knew I had my work cut out for me to get over this climb. So, it wasn't a course for me and I had to be smart about it.

I remember a big break had gone and it had [a bunch] of Symmetrics guys in the split. There was a little riser coming to the start-finish and I timed this attack on side just as the pack fanned out. I squeezed through and bridged up solo to the split and got onto the tail end right at the bottom of the climb. The Symmetrics guys saw that I made it and they drilled the climb really hard. This was the most dangerous time for me, withstanding that tempo up the climb after I had just bridged to the split. But I did stay on, and I knew what their game was. Symmetrics had six or seven guys [actually five] in a group of 15 or so [11] so they had to do the work, and that was pretty much the race. It was quite a race of attrition.

I was just on one of those days - you hear about good days and bad days, and I was on a good day. The last race I did before Nationals was Beauce, and the last stage was that circuit in St-Georges. I had made the breakaway, and I probably dug as deep in that race as I have ever done, and honestly, the Nationals in that breakaway was a cakewalk compared to that Sunday in Beauce the week before.

It was one of those days in Kamloops where the process of elimination and selection ... one thing I was worried about was that I have always been a cramper in hot races, especially circuit races with surges over threshold. That usually gets to me and I come apart with cramps; I've done it numerous times. I was really worried, but I was super hydrated - that's where David Brome came in. I had my own personal support team and they kept me with what I needed.

Coming to the final climb, what made my life easier ... I thought my main opponent would be Wohlberg, and he just keeled over with cramps and started screaming, because his legs cramped up at the bottom of the last climb. So, I thought, 'that's one down'. Then, Alexandre Lavellee placed an attack at the bottom of the last climb and I was with two Symmetrics - Svein and Cam Evans - so I used up the Symmetrics guys and made them do most of the chasing up the climb. They did a pretty good job and got close to Lavallee.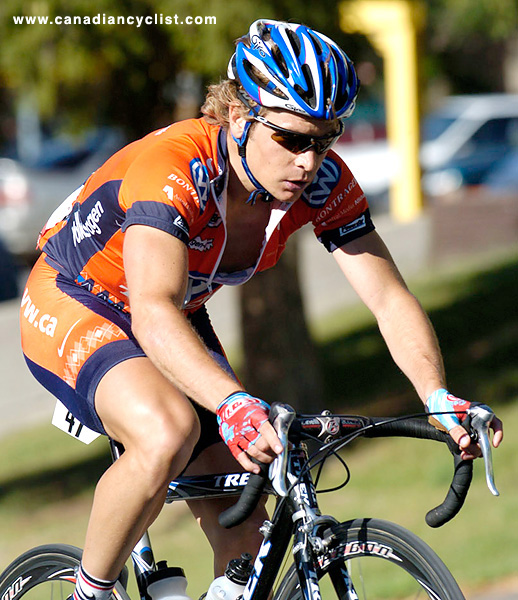 Alex Lavallee
I knew I easily had a good bullet left, and I attacked over the top of Lavallee and got [away] solo. I'm pretty fast on the downhills, and I knew that if I had a gap I could extend it on the descent, which I did. It was enough to win solo. It was just one of those great days on the bike. I had never won Nationals, so that was huge and they couldn't not send me to Athens after that. It was just one of those magical days. I remember a lot about that race.

I've rarely had days when I've felt that good. When Wohlberg keeled over with his cramps, I started cramping in my fingers. So, my fingers were cramped around the handlebars, but my legs were fine. If anything cramps, you couldn't ask for a better thing than your fingers around the bars! I was pretty happy about that, because I was waiting for it [cramps] to go and the legs never did.

I knew I could take care of them in the sprint, but I also knew I had a big bullet I could test them with, with an attack. I don't think they were expecting it either but, as I said, I was on one of those good days. It was a tailwind up the climb and I was pulling bottom to top up the climb every time in the breakaway. When you are climbing with a tailwind it's not much of a draft so I could set my pace, but I was also stamping my authority on the race, I thought. I don't think people were really expecting that. Luckily, Symmetrics just ran out of guys and I only had to deal with two of them at the end.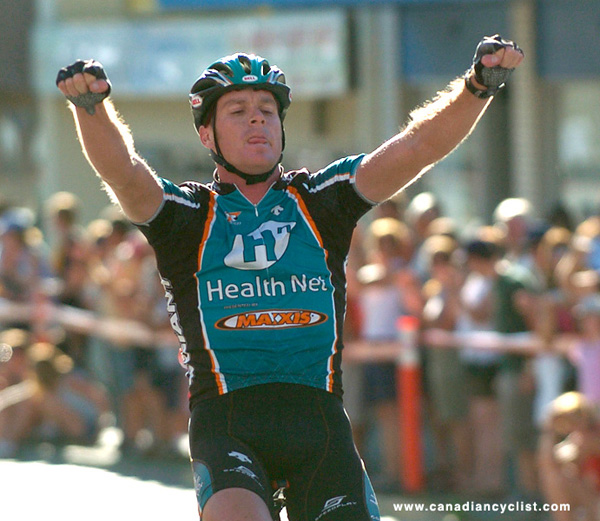 Fraser wins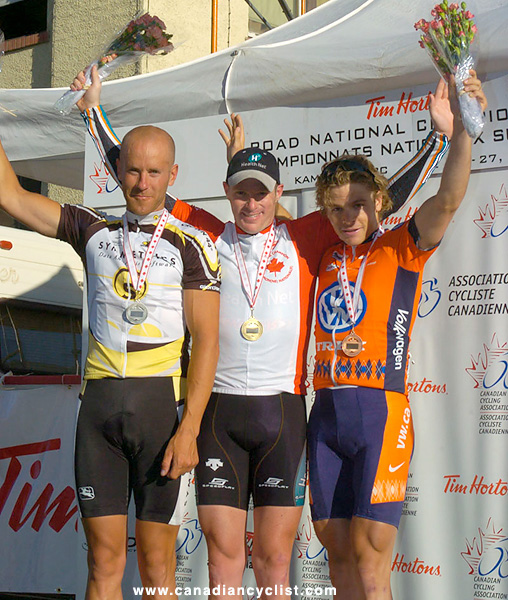 Podium Tuft, Fraser, Lavallee
It was nice to win solo; I hadn't won a solo race since a stage at Beauce three or four years earlier [we think Gord is talking about Stage 2 in 2001] ... it's nice to win solo, you get to think about what you want to do going across the line.

I asked Gord - who has more UCI wins then any other Canadian man - how important a national title is among all those victories.

I think it was a big box to check. I remember when I was 12 or 13 years old, I was watching the Ice Cream Classic race series in Ottawa and watching Todd Matheson; he had the national champion's jersey, and I thought 'I'd love to wear that jersey one day'. And it was 20 years later when I was finally able to wear it. To wear that national champion's jersey for a year I thought was a big box to tick.

I think I did the jersey proud; I won Trenton in the jersey, I won a stage of Georgia in the jersey ... I won some good races in the jersey. It was nice to give the team the challenge of coming up with a good design. I kept the jersey [design] pretty close to the original design - you seen some pretty atrocious designs, right? I didn't want that, I think they did a good job; nice and plain, pretty minimalistic. I still have a couple lying around [Gord sent us a photo]; maybe I'll ride in one tomorrow!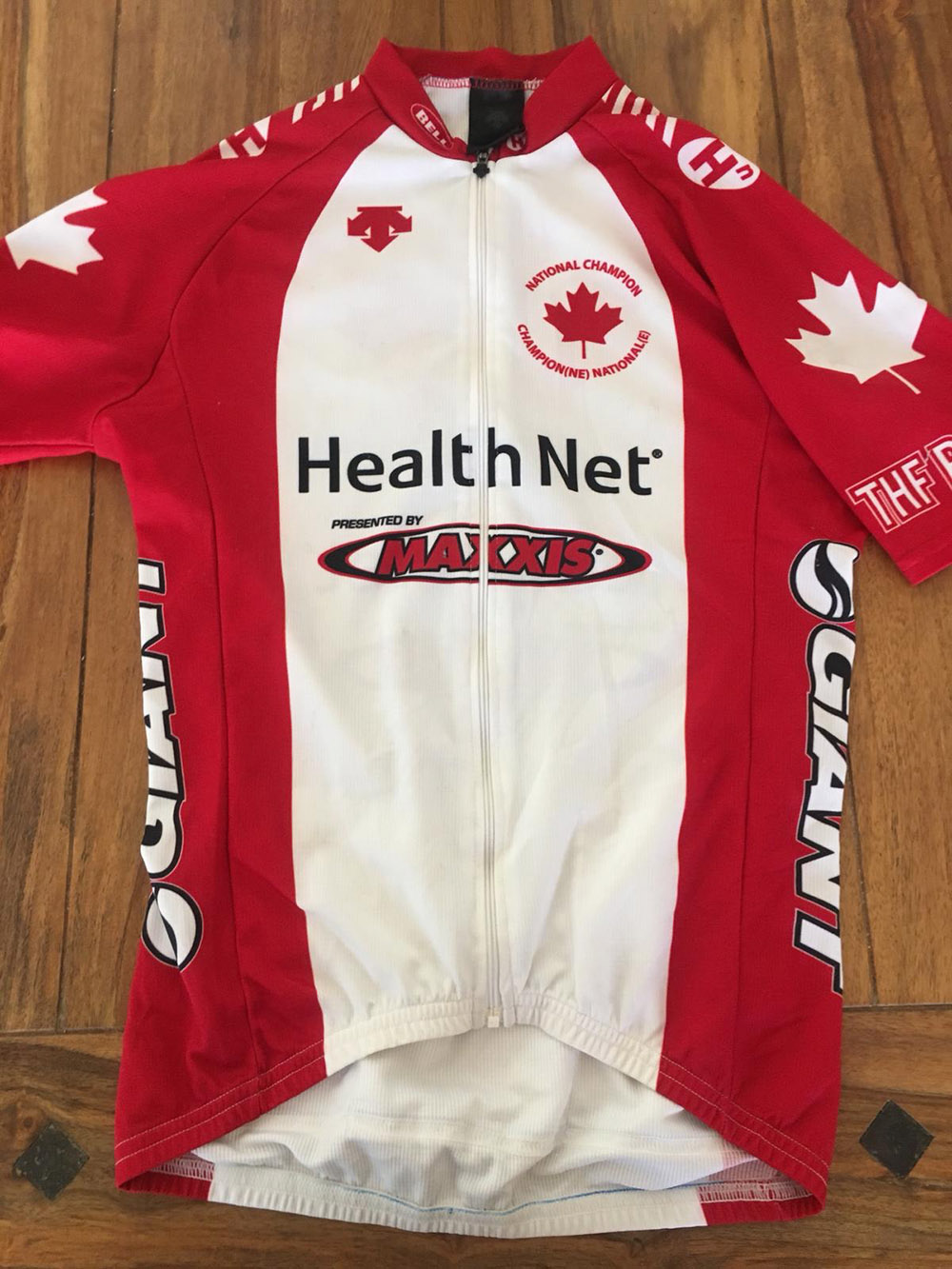 Previous Race revisits

Race Revisit - 2018 Tour de Beauce with James Piccoli
Race Revisit - 2008 Tour de Beauce with Svein Tuft
Race Revisit - 1995 Tour de Beauce with Eric Wohlberg
Race Revisit - 1994 Tour de Beauce with Jacques Landry
Race Revisit - 1987 Tour de Beauce with Ivan Waddell
Race Revisit - 2012 Chrono Gatineau with Clara Hughes
Race Revisit - 2019 Baie-Saint-Paul Canada Cup with Leandre Bouchard
Race Revisit - 2019 Nove Mesto MTB World Cup with Haley Smith
Race Revisit - 2014 Giro d'Italia with Svein Tuft
Race Revisit - 1990 Paris-Roubaix with Steve Bauer