July 15/20 13:20 pm - Race Revisit - 2015 Pan Am Games with Raphael Gagne

Posted by Editoress on 07/15/20

Today is the latest in our series - Race Revisit - where we return to a past event that took place on (or around) this date. As well as a recap of the event and links to our original coverage - race reports, results, photos and video interviews - we will also be including comments and in-depth commentary from some of the Canadian athletes who were there.

The Pan American Games are not usually a major focus for the Canadian high performance program, since the cycling events do not offer much in the way of UCI points - unlike the annual Pan Am Continental Championships in each discipline. However, the 2015 edition took place in the GTA, the Greater Toronto Area, and included the use of the newly built international level velodrome in Milton, as well as an international level BMX track in Etobicoke and a new track north of Barrie at Hardwood Ski and Bike. In addition to allowing Canadian cyclists a rare opportunity to shine at home, it also allowed the high performance cycling program a chance for a dry run at the processes and protocols to be used the following year at the Olympic Games in Rio.

Canadian cyclists had a remarkable Pan Am Games, winning a total of 20 medals, including 11 gold, 4 silver and 5 bronze. Canada won at least one medal in every single event except two. It is an impressive collection of hardware.

We start our Pan Am Games coverage with mountain biking, where Canada won gold in both the women's and men's events, plus silver in the women's. Raphael Gagne took the gold medal in the men's race, with Derek Zandstra finishing just off the podium in fourth. Emily Batty won the women's title, with Catharine Pendrel taking silver.

We begin our Pan Am coverage with Raph Gagne's gold medal. It came during what was already a very strong season that included multiple wins in the U.S. Cup series and the overall title for the series.
Soto, Gagne, Ettinger
Weather forecasts earlier in the week hinted at rain, but race day was hot and humid (over 30C) with hazy sunshine at the Hardwood track, 75 minutes north of Toronto. The 5.2 kilometre circuit is well-known to Canadian athletes, with constant short, steep climbs and technical descents - the best known being the Boneshaker rock garden.

The men's race did not have a clear-cut favourite, with four riders in contention - the two Canadians, Argentine Catriel Soto and American Stephen Ettinger. Soto has been the most consistent performer on the World Cup during the season, but all had finished in front of each other at various times.

Ettinger took the lead in the first lap, with first Soto and then Gagne bridging across. Zandstra had a poor start, had to work his way through traffic to fourth, but by the time he got clear, the medal group was gone, never to be seen again.

By the end of Lap 3, the midway point in the race, Ettinger had drifted off the back of the other two, unable to sustain the pace, and from that point rode to conserve his bronze medal spot. The front two rode together, with Gagne doing most of the pacesetting. As they started the final lap, Gagne gestured to Soto to take the front, but the Argentine refused - was it tactical or was he struggling? It turned out to be the latter, as Gagne pulled away to win by an impressive 50 seconds, the gap all attained in the final lap, despite crashing into a tree. Ettinger came in at 1:48 and Zandstra at 2:52.

Results
Report
Photos
Interviews

Raph spoke to us from his home in the Quebec City region.

Cycling Canada gave a lot of importance to this Games; it was definitely something special for me. It was in line with being selected for the Commonwealth Games in 2014 and then these Games in 2015 and then leading into the Rio 2016 Olympic Games. Taking the win was not a surprise, but at the same time I was not sure. I had a good beginning of the season in March and April with the U.S. Cups. In May I had just okay World Cups; I was a little disappointed. I was aiming for top 10-15, but I think I was more like 20s to 30 in Europe. It wasn't bad but it wasn't what I was looking for.

I had quite a big crash in Nove Mesto [World Cup] and had to take two weeks off with an infection from a big cut I had. So the beginning of June was not amazing, but then I felt so fresh and so strong; I really, really trained all way to the Pan Ams. I had a really good preparation with a lot of fitness - almost too much; I don't think I was fully recovered for the race because I was coming off the U.S. Cup final in Colorado and then altitude training before and after the final in Colorado.

The week with Cycling Canada in Toronto leading into the Games was simple and fun and under control. On the day I felt like I could deliver. I had an amazing race. There were two small mishaps during the race - one of them being five minutes to the finish. I had attacked and dropped [Soto], and 'broke the rope' to him. But then I hit a tree and he closed the gap to me. I re-attacked and got the gap again.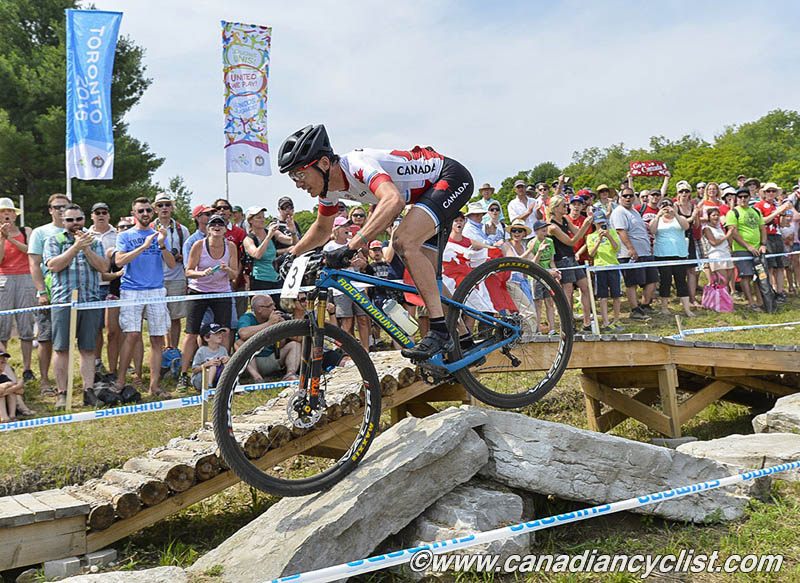 Raph Gagne
Ettinger was really strong in the first half of the race. All race, Soto had been racing as a favourite; he was the aggressor and I was more like being patient, managing my energy. It was really hot, which I like, but I knew that I had to be smart. Coming back from the altitude made me really strong but less explosive and Soto is a really explosive rider. But on that day, I think it was better that I was less explosive because in the end I think that is what made the difference - he might have been too active during the race and I was just patient and really calculated my moves.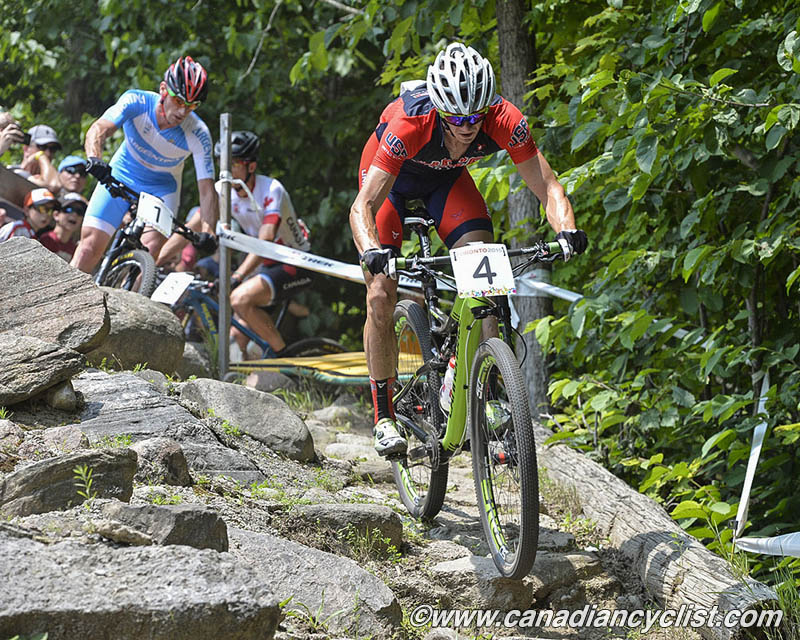 Ettinger leading Soto and Gagne through Bone Shaker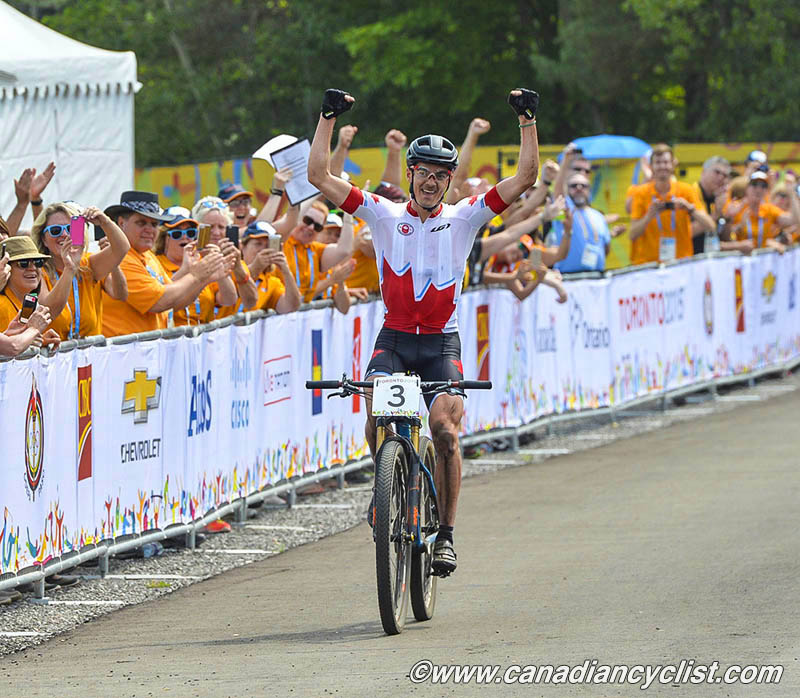 It was one of my best seasons, and I think there are takeaways from positive years. That year, things were under control health-wise and I had just finished my last internship in Physical Education, teaching the previous Fall. So I had more rest than usual, and I think it just paid off. I was working hard in September, October, November, and when I finished, my mind was clear and I was really focussed on training, recovery and racing. I was happy to be done with the university side of things.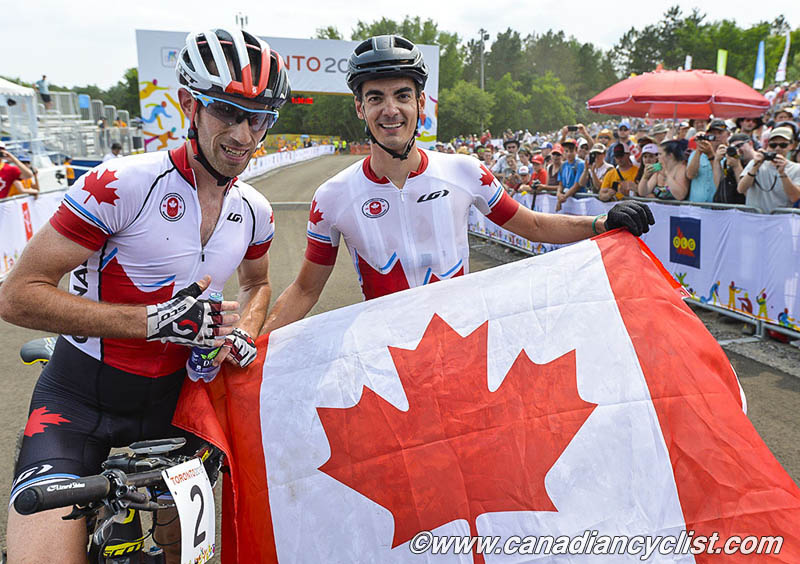 Talking about Hardwood - there has always been a bit of an inside joke with Derek being the 'King of Hardwood'. Derek had won so many races at Hardwood and was coming in as the favourite. I think I just learned from him from the past Canada Cups [and Nationals, which Zandstra won there in 2013]; he just always seemed to win there. So I was happy to win in front of the King of Hardwood.

This is definitely way up there for my career. It was a one of a kind event. It is the only time I have been to the Pan Am Games and I really delivered. Even though the importance of the Pan Ams is not super high in professional mountain biking, to perform at home and deliver on the day ... I was super happy. I'd had some up and downs with training and sponsorship, and my parents were there, and the vibe with the team ... it was a bit of a pre-Rio test.
Previous Race revisits

Race Revisit - 2014 Road Nationals with Leah Kirchman
Race Revisit - 2012/2016/2019 Road Nationals with Ryan Roth
Race Revisit - 2016 Road Nationals with Annie Foreman-Mackey
Race Revisit - 2004 Road Nationals with Gord Fraser
Race Revisit - 2018 Tour de Beauce with James Piccoli
Race Revisit - 2008 Tour de Beauce with Svein Tuft
Race Revisit - 1995 Tour de Beauce with Eric Wohlberg
Race Revisit - 1994 Tour de Beauce with Jacques Landry
Race Revisit - 1987 Tour de Beauce with Ivan Waddell
Race Revisit - 2012 Chrono Gatineau with Clara Hughes
Race Revisit - 2019 Baie-Saint-Paul Canada Cup with Leandre Bouchard
Race Revisit - 2019 Nove Mesto MTB World Cup with Haley Smith
Race Revisit - 2014 Giro d'Italia with Svein Tuft
Race Revisit - 1990 Paris-Roubaix with Steve Bauer