November 5/20 9:08 am - 2020 Racing Impact on MTB Olympic Qualifications

Posted by Editoress on 11/5/20

There has recently been some anxiety among mountain bike riders regarding the Olympic quotas for nations after a pandemic-truncated World Cup and world championships season that many athletes did not take part in.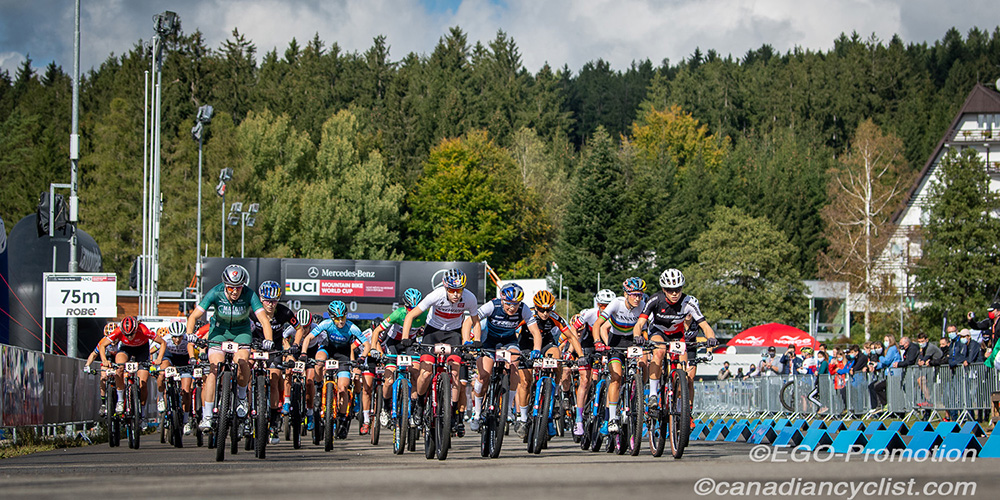 We first investigated this issue back in mid-May and then in mid-July, interviewing the UCI Off-road Manager Simon Burney, who confirmed at the time that the nations ranking for the Olympics would be halted as of March 3, 2020, and no events after that date in 2020 would count towards the Olympic quotas, with an additional 1-2 World Cups in early 2021 becoming the final events for points (which with the subsequent calendar release, are now known to be Albstadt, Germany, and Nove Mesto, Czech Republic). At that time, it appeared that the plan was for rider rankings at that point in time to be used for the start positions in the qualifying 2021 World Cups, so riders who could not attend 2020 events would not be disadvantaged.

You can read our report Here.

It does need to be noted that the Olympic rankings are different from the World rankings, and that is where the anxiety has come up, with confusion over whether ranking points from the two World Cups in Nove Mesto and the Worlds in Leogang, Austria, which provided points to riders who attended, would be included for start row positioning in the final Olympic qualifying events? This could certainly impact the riders who didn't attend, including Canada's Catharine Pendrel and American riders Lea Davison and Chloe Woodruff.

So - unlike some others - we went back to Simon Burney at the UCI, and he has clarified the situation. The UCI is currently proposing that the rankings used for call-ups (ie, start row positions) in the first two World Cups of 2021 (Albstadt and Nove Mesto) will be based on rider rankings taken from the standings as of March 3, 2020, PLUS the back-to-back World Cups in Nove Mesto and the Worlds in Leogang. The reasoning is that pretty much any rider who wanted to attend those races were able to attend those races.

Simon explained, "When we spoke in July, we didn't know what the situation would be for races this year. We didn't know what travel restrictions would be in place or how they would affect participation at the world championships. But once we looked at Worlds - and the same people raced the week before in Nove Mesto - [we saw that] participation wasn't affected at all by travel; everybody that wanted to be at Leogang, and therefore Nove Mesto, could be there. The only ones who weren't there were the ones that made the choice not to travel ... I'm quite happy now using Nove Mesto and Leogang, because I think it's fair to use them, because everybody who wanted to be was present."

"We looked at the UCI ranking for top-100, top-50, for how many were present and it was pretty much everybody. There were people like Catharine Pendrel, who's pregnant, and people who were not selected or chose not to travel, like Chloe and Lea. But they made that decision, it wasn't like a situation where riders from the U.S. couldn't get to Austria, because plenty did. So, right now, the plan is to use the March 3rd ranking plus points from Nove Mesto and Leogang as the call-up for the first World Cup and then for subsequent World Cups using that standing plus the World Cup that has just happened."

Simon confirmed that other races, such as national championships, C1 and C2 category races, will not be used for the rankings to determine the call-up at the big races. He expects the decision will be finalized in December.

For the men, the biggest loser is Mathieu van der Poel (Netherlands), who was fifth in the rankings as of March 3rd, but plummeted to 39th in the latest (November 2nd) rankings after not attending the Fall events. The biggest winner looks to be Dan McConnell (Australia), who moved from 38th on March 3rd to 12th as of November 2nd. Canada's men will also take a bit of a hit after both Leandre Bouchard (16th on March 3rd and 23rd on November 2nd) and Peter Disera (35th on March 3rd and down to 107th on November 2nd). Both Canadian men were at the Fall races, but Disera struggled with results. Canada (and the U.S.) also did not have any domestic races or national championships, which impacted world rankings.

In the men's Nations rankings, there is no change for the top-4 countries between March and November - Switzerland, France, Italy and Brazil. Canada was ninth in March, but 13th now. Having said that, the Olympic ranking for nations (on March 3rd) had the top-4 in the same order, but Canada was tenth, rather than 13th. The issue is going to potentially be where are riders are on the start grid for the final qualifying World Cups next Spring.

On the women's side, the big losers are Canada and the U.S. On March 3rd, Catharine Pendrel was ninth in the rankings and Haley Smith was 24th. While Emily Batty has improved to 25th (from 33rd), Pendrel is down to 38th and Smith to 62nd, as of November 2nd. Catharine Pendrel, of course, is pregnant and unable to race. The U.S. has been hit even harder - Kate Courtney was ranked first early in the year, Woodruff 11th and Davison 14th. Now, Erin Huck is 17th, Haley Batten 21st, Woodruff 24th, Davison 30th and Courtney 31st. Woodruff and Davison announced that they would not attend the Fall races, and Courtney struggled with illness and mechanical problems (she was a DNF at Worlds) The biggest winners are the French, with Pauline Ferrand Prevot now first and her countrywoman Loana Lecomte fifth. In Nations rankings, the USA was first back in March, followed by Switzerland, the Netherlands and Canada. Now, it's France, Switzerland, the Netherlands and Great Britain. The U.S. is back in sixth and Canada is 13th; possibly the lowest we have ever been for the women.

However, we should note that the Olympic rankings for Nations back in March was Switzerland, USA, Netherlands and Canada, and that is what we have to defend next year at the first two World Cups. But, given the potential lower spots on the starting grid for Canada and the U.S., it may be much more difficult than originally expected.