July 7/21 15:51 pm - Pre-Olympic Interview - Catharine Pendrel

Posted by Editoress on 07/7/21

On Tuesday, Cycling Canada announced the Canadian Mountain Bike squad for Tokyo [see MTB, BMX & Men's Road Team Announced for Tokyo]. Canada has qualified two spots for women and one for men. One of the women's spots will go to Catharine Pendrel, who will be attending her fourth Olympics, a remarkable accomplishment in any sport.

Catharine won a bronze medal at the last Olympics in Rio and is a two-time world champion. She will be racing in Tokyo six months and one day after giving birth to her daughter Dara! Catharine spoke to us from Europe where she has been racing in the World Cup series, but is about to head back to Canada for final Games prep.
2016 Rio Olympics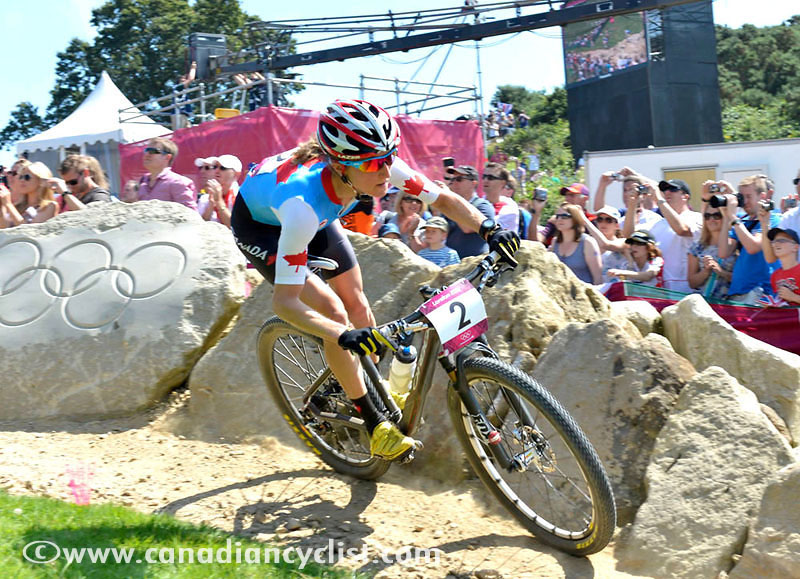 2012 London Olympics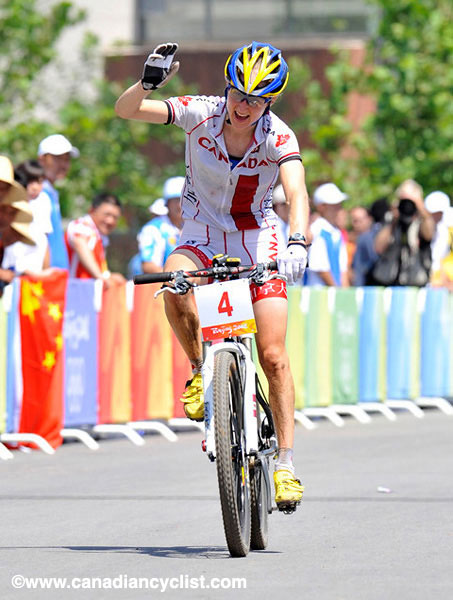 Finishing 4th at the 2008 Beijing Olympics

Canadian Cyclist: It's official - you are going to your fourth Olympics. I remember your first Games in 2008; did you honestly think that 12 years later - well, actually 13 - that you would be attending your fourth Games?

Catharine Pendrel: My plan actually ... I was so sure that I was going to retire after London ... and then I got offered a four year contract! So I was thinking, 'I can't say no to four years of bike racing', and here I am, eight years later.

CC: You bringing a lot of experience to the table, and the Olympics can be overwhelming to a newcomer. Do you feel your experience makes a difference in your prep and being ready for the Games?

CP: Absolutely. That, and that I am coming in from a totally different circumstance from what I had at any other Games [becoming a mother]. Obviously, whether my body would be physically ready to compete at the Games six months after having Dara was never a sure thing and that's put me in a mindset of just appreciating my progress and fighting for a little bit more every day and every week.

I did feel some really good sensations in the last race [Les Gets World Cup]. Even though I'll probably find more form later in the year, I'm on a really good progression. I think I can do a good job in representing Canada.

CC: You were at the Tokyo test event, so having seen the course, how do you feel it fits with your strengths?

CP: I think it's a really good course; I think it's pretty unique. I wouldn't say it's like any World Cup [course] on the circuit, but Les Gets had some very similar rock features. It was a course I had a lot of fun preparing on, and we've put a lot of effort into being ready and knowing the course. So I feel that I can perform well there and I think that it will be about bringing your best mental and physical game, but also just being ready for the heat.

CC: I was going to ask you about the heat - it was also a concern at Beijing in 2008, your first Games [Catharine finished fourth].

CP: For sure everyone will be doing some heat training in preparation for that. It's been hard to do that consistently in Europe [during the World Cups], just because we've had quite a bit of wet and cold, but we've also had some hot and some humid, so that will all add up.

CC: Recently, the IOC and Japanese organizers made changes for breastfeeding athletes, to allow them to bring their infants to the Games. Is that change going to impact you?

CP: Not at this point. Had it [the change] been made months ago, yes, but at this point, just with COVID we don't know what the reality would be for Keith [Catharine's husband] and Dara on the ground. Whether they'd have to stay in a hotel room or whether they would be able to go out to my event and training or not.

Because this wasn't approved until last week, we had already made our plan of what would be the best situation for Keith and Dara, and we had already decided they would stay home with the support of grandparents. It'll be hard, it will be my first time away from her, but I won't be worried about them stuck in a hotel room.

CC: This will also be the first time that your parents won't be there - I'm used to always seeing them in the crowd at the race. They won't be there and Keith won't be there.

CP: It'll definitely be different, but honestly, when you're at the Games, even if family is there, you don't typically see them, just because it's so hard to maneuver around. But I know that they will be watching with other family - my brother and his family will be with my parents, and Keith and Dara will be with his parents, so there will be really great family energy watching the events and being able to talk to them in the lead up. But, yes, there's nothing better after you've had a great day or a bad day then having your family there. It's going to be hard for a lot of athletes that don't get to have that hug after the event from the people that have supported us the entire way through this journey.

CC: There have been some clear leaders on the circuit so far this year, like Loana Lecomte [France]. Do you still feel that you are going to be in the mix, challenging for medals?

CP: To go for a medal would be optimistic, probably. You don't count it out because you never know ... at the Olympics there's always that rider that sneaks in there by experience and keeping a cool head. There are some women that have extremely great form at the moment, but guaranteed I will do my best to be in the mix.

CC: So with about two and a half weeks to go, what does your final prep look like? You aren't going to Andorra with Pete [Disera] and Haley [Smith].

CP: No, I'm actually flying home, and I have to have two plans because of the fires around Kamloops. Plan A is that I go home and I can train in the 30 degree heat every day, and just enjoy being home. Plan B is that we would go to the training centre in Victoria and be able to use the heat chamber and also have a home base there. Obviously, getting to go home is Plan A, but part of being a mom and having your best races is knowing that your family is home and safe and in a good spot too, and that is important for us.

CC: How has being a mom changed things for you in terms of being an athlete and being competitive?

CP: I would say at this point in my career it's been a nice switch, because I was getting a little burnt out on high performance and fighting to stay on top. Having a baby and coming back as a mom puts me in a completely different frame of mind. I'm in this healthy spot of looking for progress again and being appreciative of all the small gains, rather than being disappointed because I'm not what I was. It's a much more powerful position and exciting position of finding improvement and gains. Definitely there is more to juggle; your time is not just your time or your schedule, so that is something you have to work around, but when I'm on the bike I'm able to focus really well and when I'm at home it's all about Dara.