October 14/22 7:41 am - Track World Championships: Day 2 report

Posted by Editoress on 10/14/22

While Dylan Bibic's magnificent win (Interview) in the men's Scratch Race was the highlight of Day 2 of competition at the Track Worlds in Saint-Quentin en Yvelines, Canadians competed in all of the events contested.

The women's Team Pursuit squad finished seventh overall at their first Worlds as a team, setting personal best times in both qualifying and the first round. Prior to this event they had never gone below 4:20, but recorded 4:18 in their first ride and 4:15 in the second. The Canadian men also set a personal best but did not advance to the final eight teams.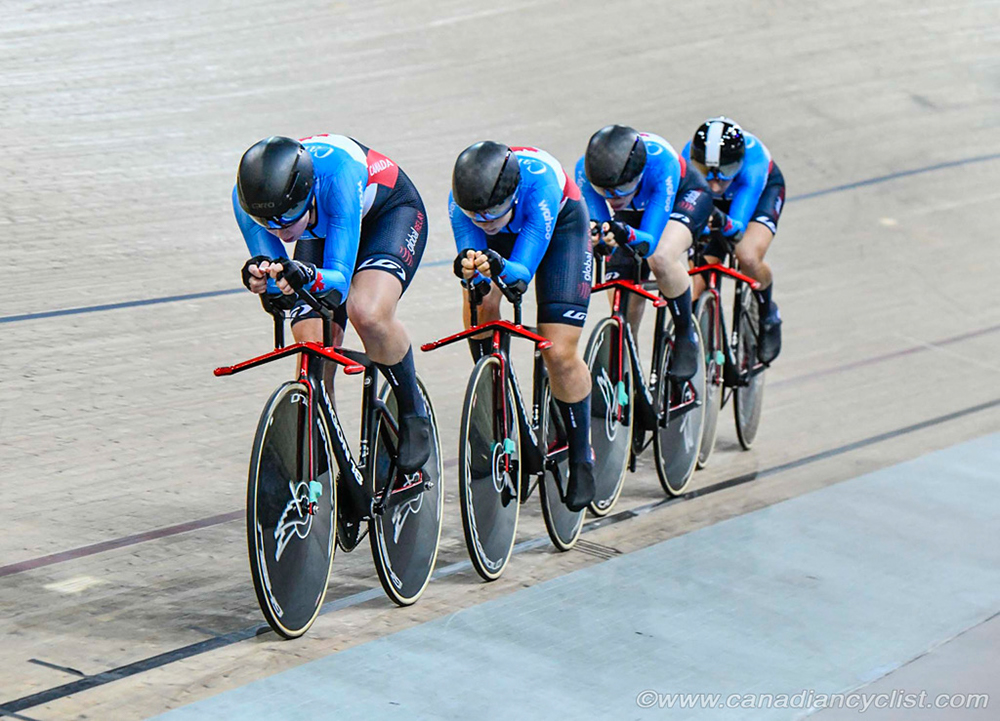 "Another personal best for our team," said Coles-Lyster. "Before these world championships we hadn't cracked 4:20, so to go 4:18.7 yesterday and 4:15.8 today is a pretty big move for our team."

"I think we are just building momentum for the team, which has been building for years," said Ruby West. "We finally cracked it, and I think we are just going to keep rolling in this direction. It's a lot of new faces, with some that have been around for a while. It's a combination of experience from all different disciplines; the road and track. There's a huge team supporting us, including riders who aren't here today, and we couldn't be here without them. It's a great group of girls we've got moving in the right direction."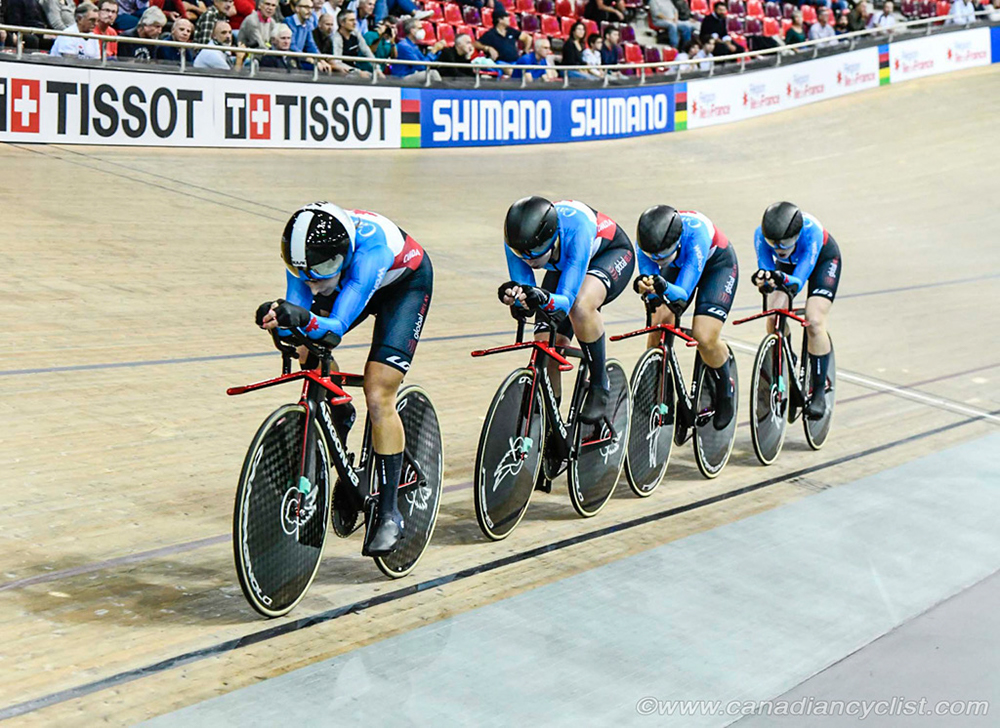 "We knew the track was going to be quite quick," said Erin Attwell. "We talked to Allison Beveridge, part of the old elite women's team, and she warned us that if we went overspeed it might be a little bit dangerous, but to have fun with it and embrace the challenge. Being able to have such a young squad and put down such a fast time has been really exciting, and we are going to carry this momentum going into Paris [2024 Olympics]. Hopefully we can shave another ten seconds off that time and be competitive."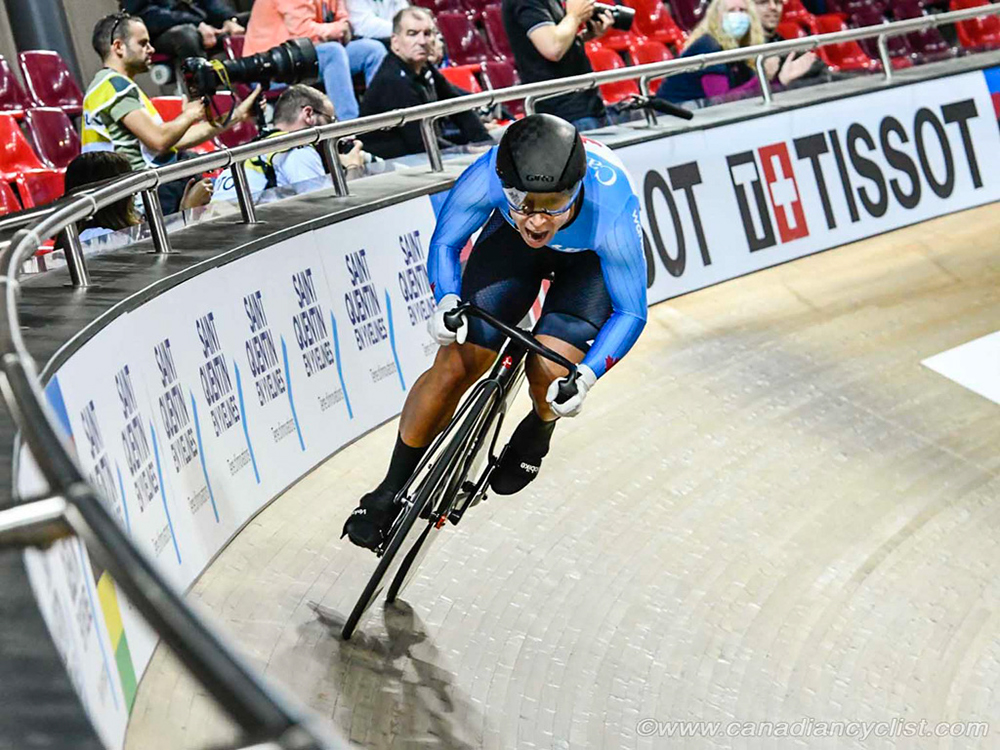 Lauriane Genest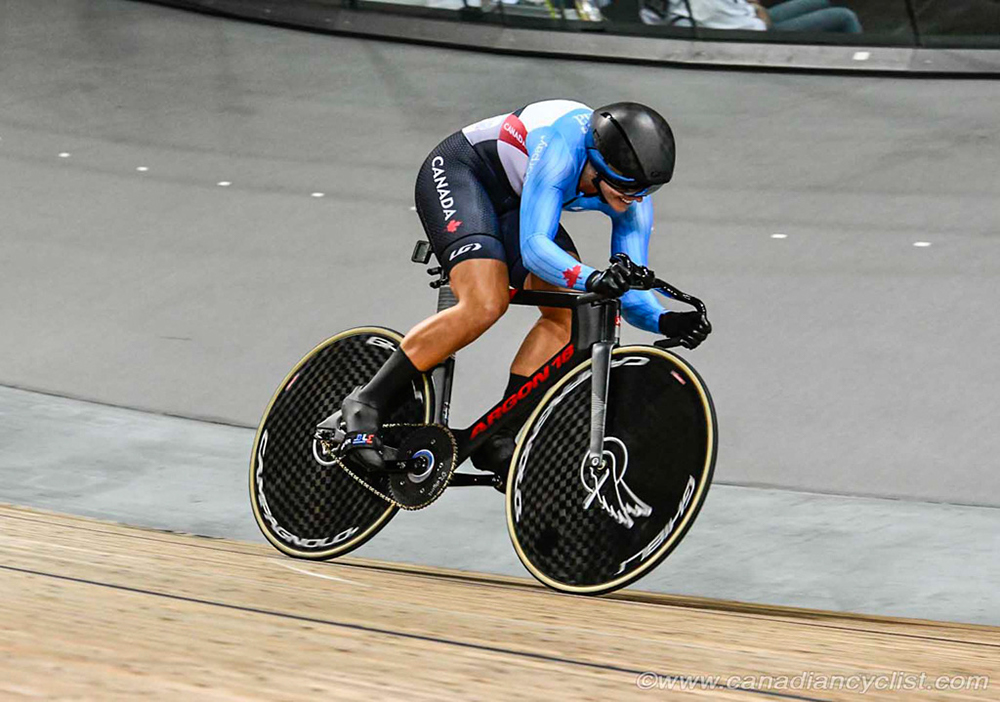 Kelsey Mitchell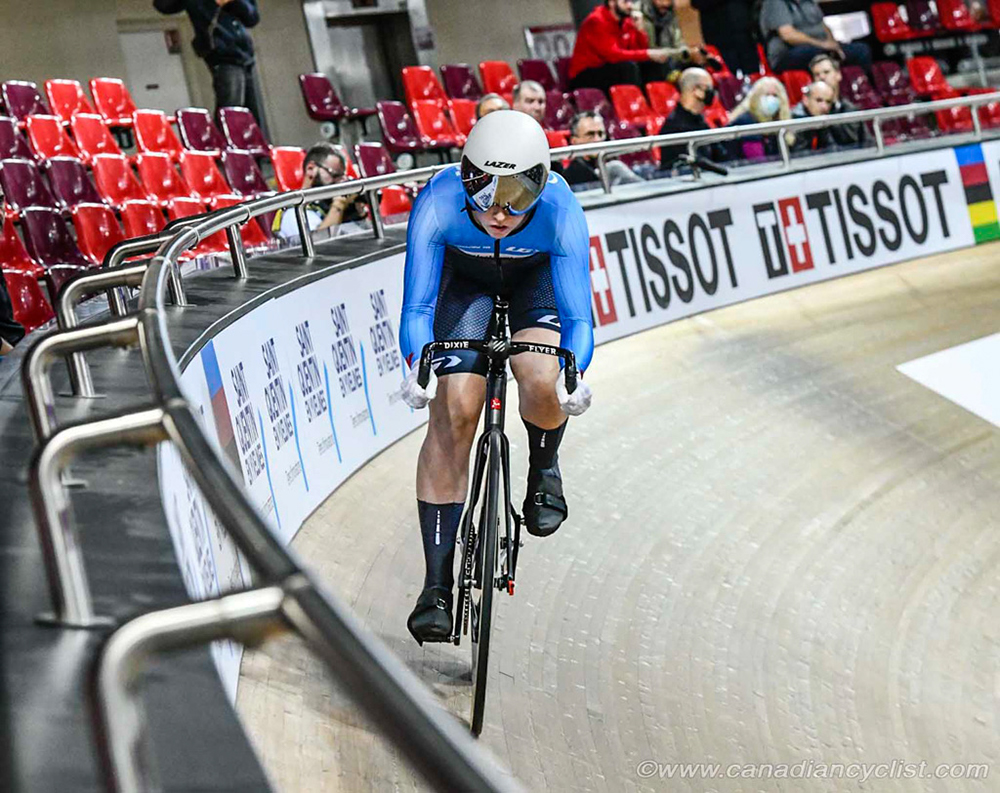 Sarah Orban
In the women's Sprint competition, all three Canadians qualified - Lauriane Genest was eighth, Kelsey Mitchell 12th and Sarah Orban 17th. Orban was knocked out in the first round, while Genest and Mitchell both went out in the next. National Sprint coach, Franck Durivaux, said "Some of the training we did earlier in the year was more focused on the team sprint and that changed some of the physical preparation for the final part of our season. We need to be focused on developing each rider's strengths, making sure training is harder than the competition. The important thing is that we know what we did and where we need to go with each rider. We have confidence."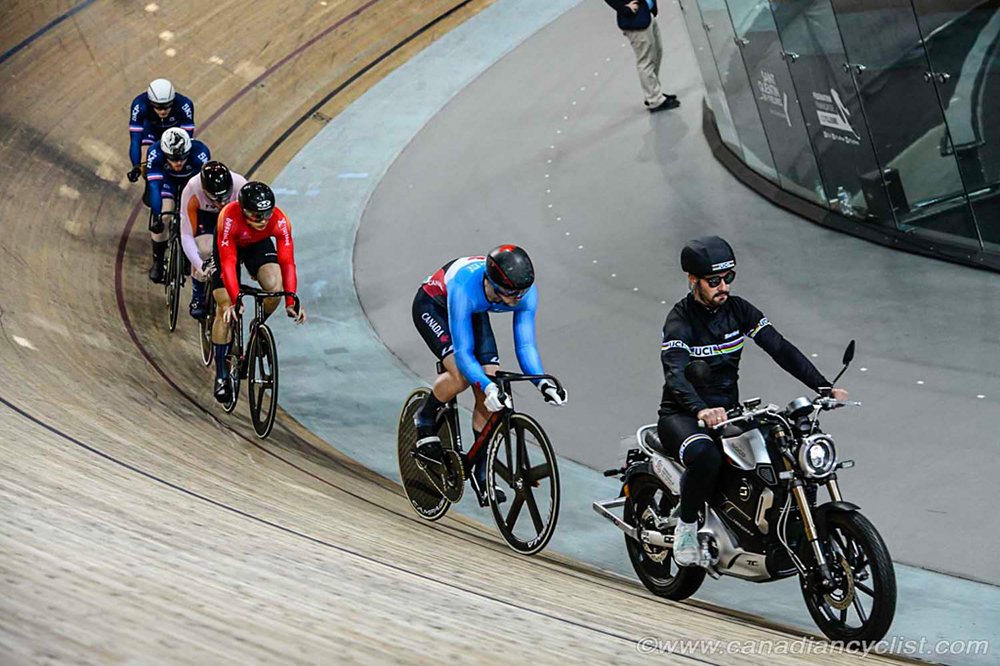 James Hedgcock
Canada's entry for the men's Keirin was James Hedgcock, competing at his first Elite Worlds. Hedgcock was fifth in his first race and third in the Repechage, and did not advance.
In the women's Elimination, Sarah van Dam stayed in to the final eight and looked strong, however, she was stuck at the bottom of the track for an elimination and knocked out after trying to ride to the front on the blue band, finishing eighth overall.
Photo Galleries
Women Sprint: Qualifying, 1/16 and 1/8 Finals

Men Keirin: First Round and Repechages

Men Scratch race