February 4/23 15:11 pm - Interviews - Isabella & Ava Holmgren

Posted by Editoress on 02/4/23

Earlier today, sisters Isabella and Ava Holmgren finished 1-2 at the Cyclo-cross world championships in the Junior women's category; first year Junior riders, no less. These are the first medals ever won by Canadians in cyclo-cross at the world championships. You can read our report and see the photos Here.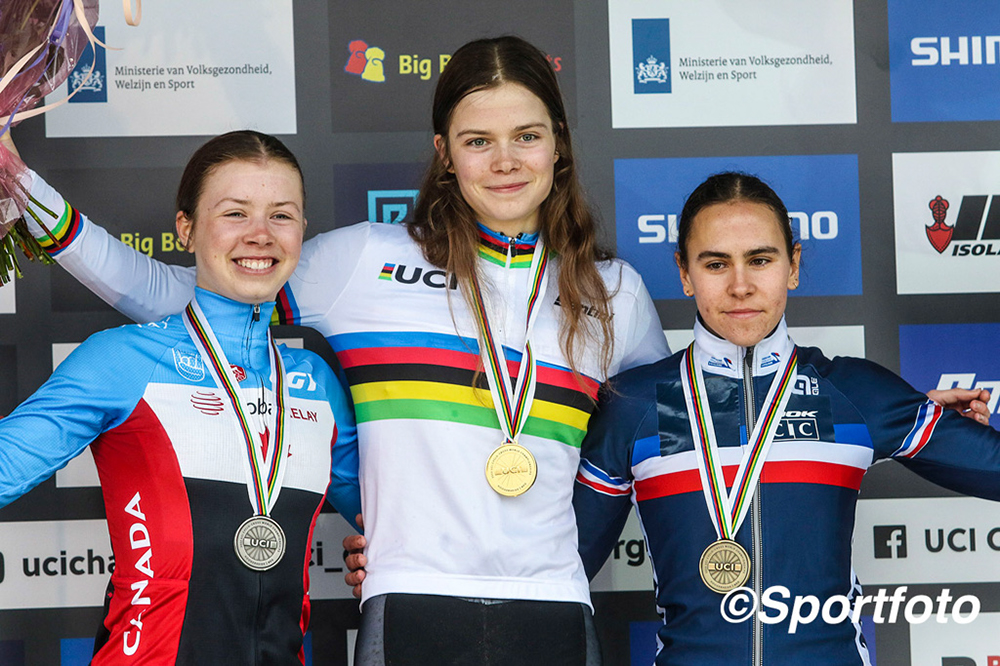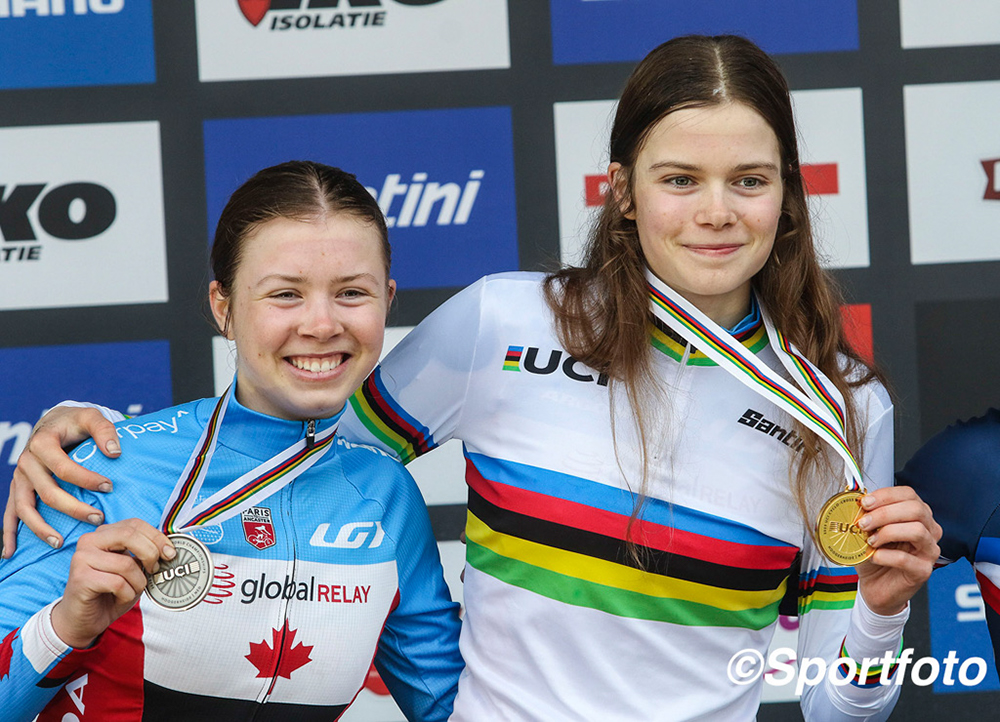 A few hours after the race we had a chance to chat with Isabella and Ava:

Canadian Cyclist: First of all, congratulations. Isabella, it looks like for the first couple of laps you were a few seconds back, before you moved to the lead. Was this a planned attack?

Isabella Holmgren: I have tended to start a bit further back in the past few races. So I slowly made my way up and eventually I made to the front. I just went as hard as I could for as long as I could. I just raced my own race.

CC: We saw with the wet conditions that a number of people were sliding out in the corners, but you and Ava didn't seem to have any problems.

IH: I think that we chose to race full Limus [Challenge brand] tires and I think that helped a lot; there was lots of grip in all the corners. [Note: Dad Holmgren interjected, "The tire pressure was dialed"]. I definitely like the muddy conditions, but I just rode the course as well as I could and it turned out well.

CC: What's going through your mind in the last half lap - you've got a pretty good lead and you are heading towards the finish line at the world championships...

IH: I tried not to think about it too much in the last lap. because there are so many things that could happen, like a mechanical or a flat. So I just stayed smooth and kept the power going. But I was really happy when I crossed the line.

CC: So has it had a chance to sink in that you've got the rainbow stripes?

IH: I don't know ... I've never done this before so I think it will take a bit to fully process! I put my jersey inside of a bag inside of a bag to make sure it is kept clean!

CC: Ava, you won the World Cup last week, so you came into this race as one of the favourites - did you feel any extra pressure because of that?

Ava Holmgren: Yes, I felt a little bit of pressure, but I knew from past world championships that the more expectations I have going into the race, the more it gets into my head. So, I just made sure to go into this race feeling happy about my season, and just focus on going as hard as I could in this race, instead of worrying if I was going to do well or not.

CC: Ava, it looked like you were one of the leaders before Isabella came up to join you guys at the front? Did your race go the way you wanted it to go?

AH: The initial start was okay and I was probably around seventh wheel. I just wanted to make sure that I wasn't burning too many matches to get to the front, but I also wanted to be there sooner than later. So I made sure to pace myself well, but also make sure my positioning was good. I ended up leading for a little bit, but the rest was just what Bella said - racing my own race.

CC: Lauren Molengraaf (Netherlands) came up to join you chasing Isabella with a lap and a half to go -were you worried about her?

AH: When I saw her pass I knew she might try to open a gap, but as long as I tried my best to stay on her wheel, I would be okay. I was trying to make sure that the riders around me wouldn't change the way my race went. It's easy to look at other riders and think 'Oh, she's stronger or not as strong', so I was making sure that I focussed on racing my own race. It's as simple as that.

CC: Ava, you had a very strong season - winning Elite national title, Pan Am title and a World Cup, plus a number of podiums.

AH: I'm really, really stoked about this whole season. I kind of told myself in my head that today was just going to be the cherry on top, and that would be fine if anything happened, but now I am even more stoked for my season.

CC: I understand that you are both going to go almost immediately into road season training?

AH: We will be flying home on Monday for a week of complete rest and school. We'll see from there whether we want to get more rest or back into training, but we'll be getting ready then to get into training with Watersley [the Belgian road team they will be riding for] and for mountain bike with Stimulus Orbea. The goal for this Spring is to qualify for both Road and Mountain Bike world championships.
1-2 for Canada at Cross Worlds