September 17/23 12:07 pm - Tour de Gatineau Mounts Successful Return

Posted by Editor on 09/17/23

After a four year hiatus, the Tour de Gatineau returned on September 15-16, bringing UCI-sanctioned women's racing back to Canada. Former pro riders Karol-Ann Canuel and Alex Cataford took on the task of convincing local officials and businesses to buy into the race, which attracted riders from six nations for the time trial on Friday and the road race on Saturday.

Unfortunately, the National Capital Commission refused to allow the races to take place on the traditional Gatineau Park circuit, but new courses, starting and finishing in front of the sponsoring 'The British' pub attracting large crowds.

The 17.3 kilometre time trial consisted of two laps of primarily flat out-and-back course, with only the final 400 metre climb to the finish line on each lap offering any ascent. A total of 50 riders started in four waves. Emily Erlich (Team USA), the final rider in the first wave, set the first fast time of 23:08.45, which held up until Anna Kiesenhofer (Israel Premier Tech Rolland), the current Olympic road champion, rode second from last in the third wave. Kiesenhofer was the only rider to break 22 minutes, finishing 13.8 seconds ahead of Erlich. Amber Neben (Team USA), the final starter, who has won the Gatineau time trial three times, came close to Kiesenhofer but had to settle for second, 10.64 seconds back. Alison Jackson (Team Canada) was the top Canadian finisher in fifth.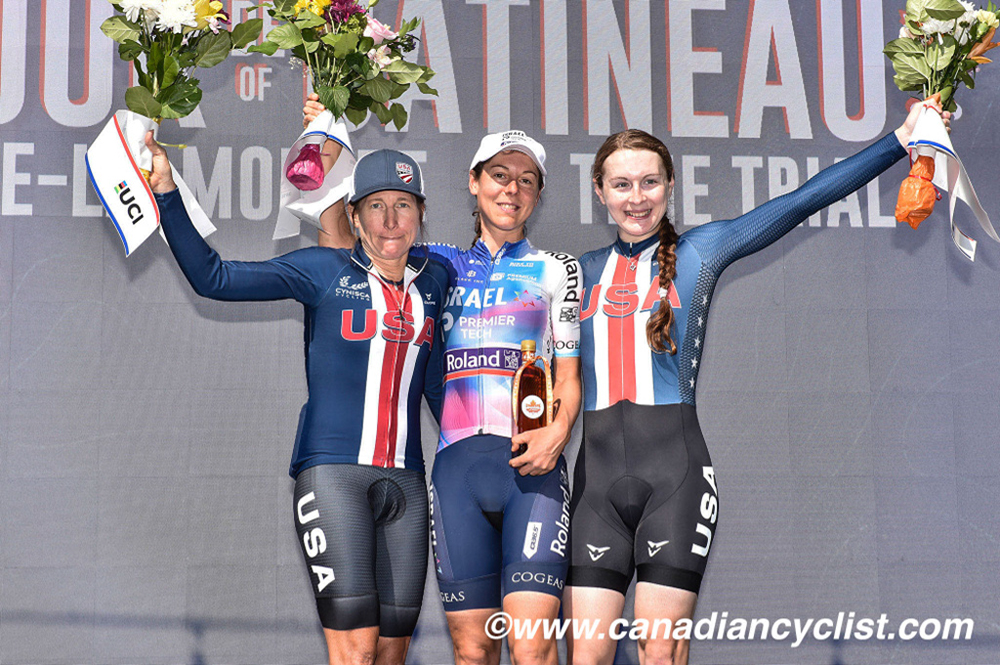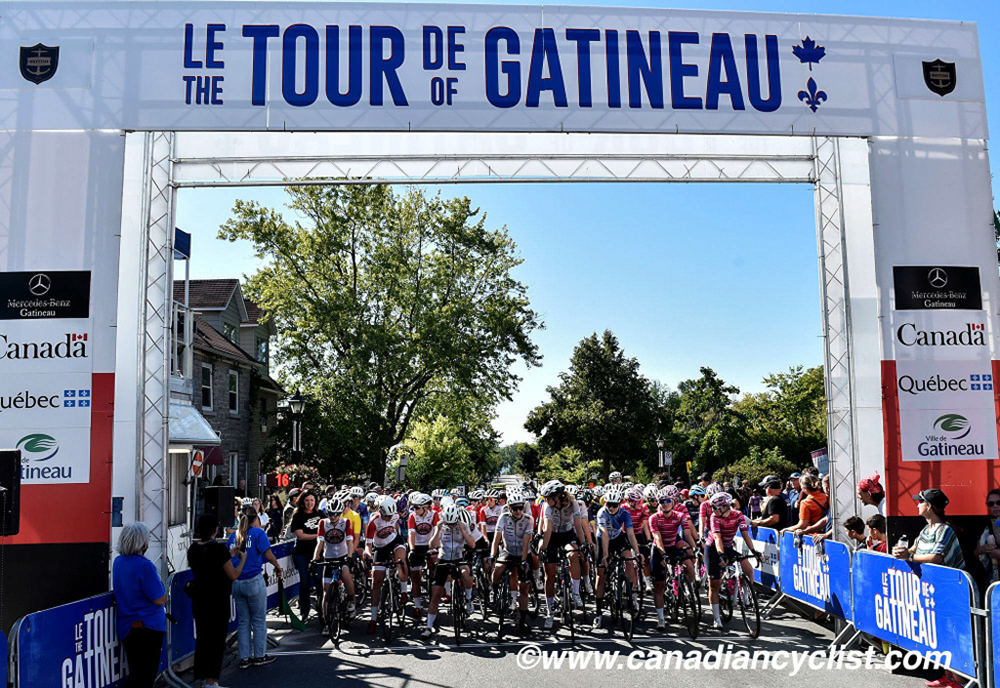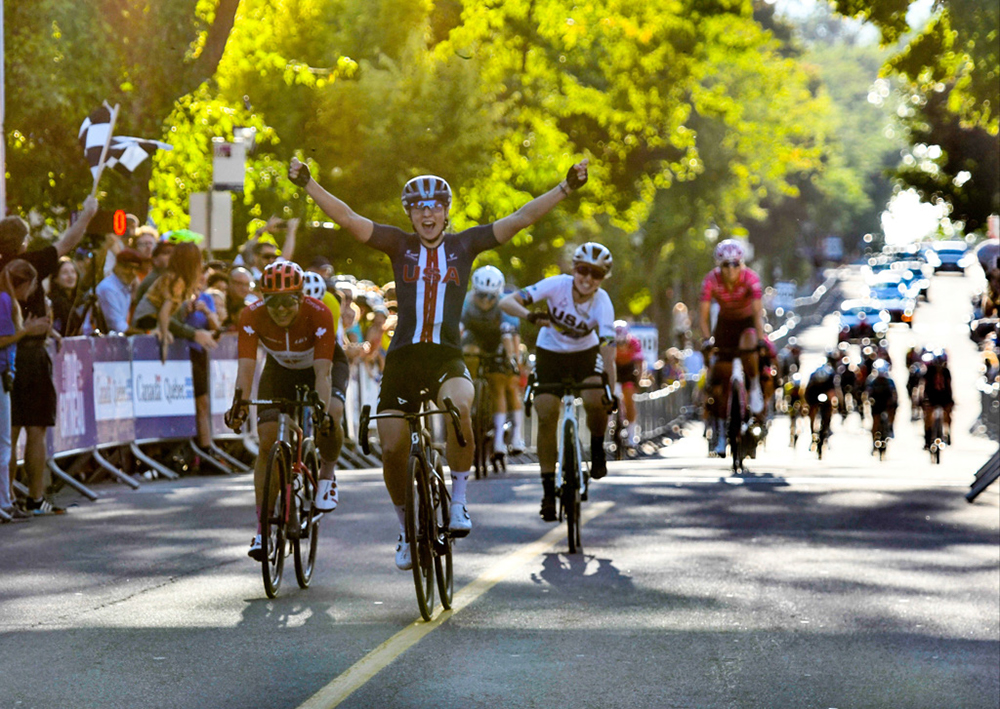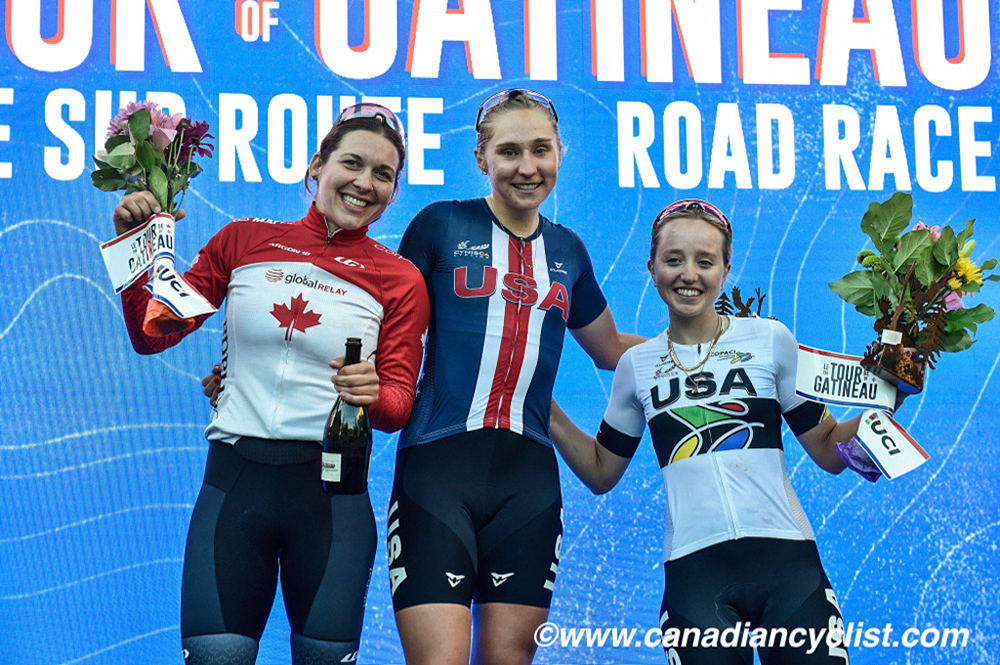 The 112 kilometre road race consisted of 16 laps of a seven kilometre circuit, incorporating the first half of the time trial course. The circuit, through residential streets, was quite technical, with numerous turns, finishing with a right turn onto the final 400 metre climb to the line.

A total of 88 riders started, with the first few laps marred by some crashes in the many corners; 47 finished. The few break attempts did not succeed, with local Gatineau rider Laury Milette (Grand-Est Komugi La Fabrique) making a solo effort that lasted almost two laps. Milette never managed to get more than 20-25 seconds, as the powerful USA and Canada national squads managed the front of the race.

In the final lap, the American national squad went to the front, led by Neben, setting up a sprint chain for Megan Jastrab and Skylar Schneider. Jackson slotted in right behind them, coming out of the final corner in fourth place and managing to catch everyone but Jastrab by the line, having to settle for second, with Schneider in third. Canadians took fourth (Kiara Lylyk (The Cyclery)) and fifth (Milette), and five of the top ten spots.

Jackson, finishing her final race of the season, said "I think the USA and our national team were ready to take it to a sprint. It's a technical finish, and the uphill sprint really suits me, plus they also brought a team of sprinters. So we just took it to the line to see who was the best sprinter on the day."

"Adele [Normand] and Ngaire [Barraclough] put me in a good position in the last two kilometres. We only had a team of four and the US had a full team of six, so when we came out of that last corner I was fourth wheel on the US sprint train. They had two star sprinters I had to try and come past, so I'm happy with my performance. I wanted to do well in front of the Canadians here."

Karol-Ann Canuel, general manager of the event, said: "People were out in force, and the local cycling community came out in force to witness the return of the Tour de Gatineau. The atmosphere was incredible, and the event went off without a hitch. It exceeded my expectations."

ITT Results

Road Race Results

Alison Jackson interview