July 31/13 7:15 am - TransRockies: Day 4 report, results and photos

Posted by Editoress on 07/31/13

Day 4: Blairmore Loop via Crowsnest Pass, 32 km, 1200m elevation gain

Hump Day at the TransRockies Challenge arrived Tuesday and we bid farewell to the town of Fernie and set off for Blairmore, Alberta in the Crowsnest Pass. A short shuttle ride east on Highway #3, Blairmore has played host to past editions of the TransRockies. Recent trail development by the United Riders of Crowsnest has resulted in an ever expanding system of sweet singletrack.
The TR7 riders would welcome the fresh legged TR4 contingent for a noon start. At the gun, the riders set out on a short tour through Blairmore and the neighbouring town of Coleman. A lung busting gravel road and double track climb from town to checkpoint one and on to the summit of Ironstone Lookout would be waiting.

TR7 Solo
For many TransRockies veterans, the climb to Ironstone Lookout would be a throw back to the early days of the event with a steep and rocky double track climb to the summit. The climb proved quick work for Men's Solo leader Oliver Zurbruegg. Reaching the summit in 55 minutes, and followed closely by Paul Remy and Cory Wallace, Zurbruegg would leave the spectacular 360 degree views behind and descend to checkpoint two through lush forest along steep switchbacks.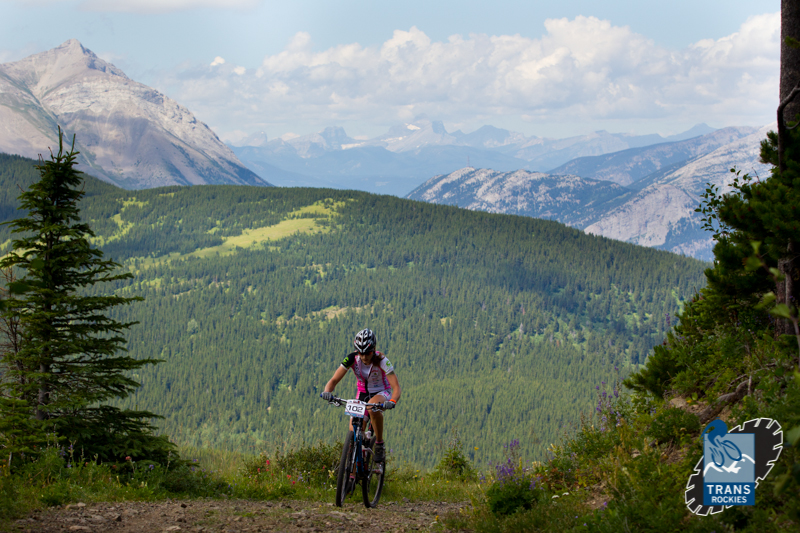 Women's leader Mical Dyck
Looking for redemption after going off course yesterday, Calle Friberg attacked the leaders after checkpoint two and moved from fourth to first before descending the trail at Pass Powderkeg Resort. He would fly into town for his first stage win in 1:44:59. Zurbruegg maintained his overall lead by a comfortable 7 minutes and 10 seconds. Mical Dyck took advantage of the climbs capturing her fourth stage win in 2:05:55 and increasing her overall lead to 4 minutes and 11 seconds.

The leaders in the Men's 40+ and 50+ categories, Leighton Poidevin and Beat Zumstein, continue to be a picture of consistency. Poidevin notched his 4th consecutive victory in the 40+ with a time of 2:00:12. Zumstein would score his 3rd 50+ stage win in 2:10:52.

TR7 Team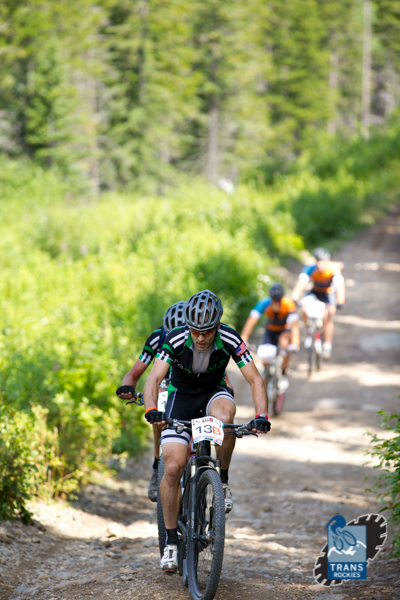 The story in the team categories has been one of almost complete domination. With three stages remaining, the leaders have built what are, likely, insurmountable leads. Men's 100+ team Sram XX1, composed of Mike Kloser and Michael Tobin, claimed their 4th win of the week and pushed their overall lead to an astounding 1 hour and 57 minutes. In similar fashion, 80+ Mixed duo of Daniella Storch and Lutz Baumgaertel, recorded their 4th win and pushed their overall lead to 1 hour and 27 minutes.

Congrats go out to Open Men's team Sebestian Cadieux Duval and Marc-Andre Daigle of team Louis Garneau, Open Women's team of Jodie Willet and Cathryn Zeglinski, and 80+ Men's team of Geoff Clark and Juancito Garcia Casatti. Each team has four stage wins under their belts and commanding overall lead.

TR4
The TR4 field rolled out ready to break in their legs for the days to follow. The closest battle came in the 40+ Men's division with David Neubeck notching his first victory in 2:20:52, 1:32 in front of Dennie McGarry. Past TR7 TransRockies Champion Trish Grajczyk continued her winning ways in the Open Women's with a time of 2:27:49. The 50+ Men's leader for the day was Conrad Oudet in 2:18:13 and Paul Tichelaar, in the Open Men, posted the top TR4 time of the day in 2:06:39.

Stage 6 will again see the riders start and finish on Main Street in Blairmore. Wednesday will be the longest day in the saddle to date and will cover 52km with 1800 metres of elevation gain.
Results