December 10/13 19:24 pm - Canadian Cyclist Christmas Gift Guide - Day 3

Posted by Editoress on 12/10/13

Cyclists and coffee seem to go together. I can't count the number of times I've seen group rides start and/or end at a coffee bar, and cycling themed coffee bars are endemic across Canada.

So, for Day 3 of our Christmas Gift Guide, we bring you one of the coolest coffee tech products we have ever seen - the Handpresso. Designed in France, this little unit is basically a cross between a bike pump and an espresso shot machine.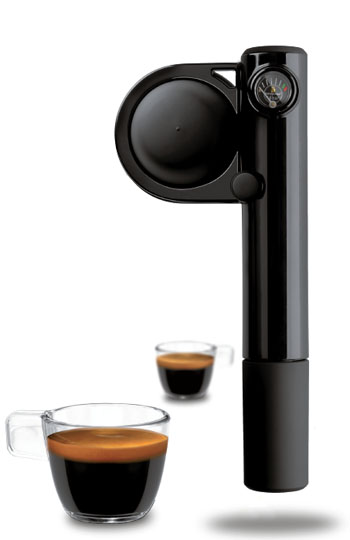 It is extremely well made and solid, and can accept either pre-packaged ESE coffee pods or you can use your own blend of ground coffee in the Handpresso Wild Hybrid model we tested (there is also an ESE coffee pod only version).

The operation is simple: fill the reservoir with boiling water to the indicated level, insert the coffee pod or basket of ground coffee and lock down the cover, pump the handle until the pressure gauge hits the green zone (15 bars), hold over a cup and press the release valve. What you get is one shot of espresso, with a nice looking crema (foam).

For travelling, this gives the coffee fan something infinitely better than the stuff you usually find in hotel rooms - all you need is hot water from the 'kettle' that comes in pretty much every room. It is compact, and the optional carrying case is a must in our opinion. If you have a microwave in the room, you can even warm up milk to make cafe au lait!

Now, while we like coffee, we wanted some feedback from a real coffee fanatic, so we turned it over to Krys Hines, owner of Cafe Domestique in Dundas, Ontario.

Krys actually admitted he was pretty impressed, commenting it is "well executed and easy to use". He preferred the ground coffee hybrid version to the coffee pod one, since it allowed him to pick his own blend, although he did point out that there was certainly less mess with the pods, and you don't have to try and carry ground coffee.

He did say that it can't replace coffee from a proper machine because, in his tests "you can never get the water hot enough, so you're not extracting as much flavour".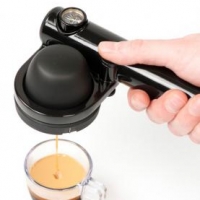 He also said that using good quality coffee is a must, and that it certainly won't work for making a full cup of coffee. However, he admitted that he wished he had it with him at the hospital when his wife was giving birth to their son...

It takes about 30 pumps to get up to pressure, although you can pre-pressurize it before you add the water, which cuts down on any loss of heat. One change that we would like to see is to make the handle fold over to a T, for easier pumping action.

The Handpresso Wild Hybrid is available through MEC (Mountain Equipment Coop) and Sail, plus many other outlets that you can find through www.handpresso.ca .

The Hybrid sells for $129 and the carrying case for $22.