December 11/13 20:21 pm - Canadian Cyclist Christmas Gift Guide - Day 4

Posted by Editoress on 12/11/13

For the fourth day of the Canadian Cyclist Gift Guide we are moving to the opposite end of the body from Day 2, when we suggested a new helmet. To be specific, new shoes.

Cycling shoes are an item that wears out, and needs to be replaced every year or two, depending upon how much you ride. As the material stretches they stop offering support, allow your foot to float around a bit rather than holding it snugly. Depending upon the construction, the sole will lose some of the rigidity that is so important for power transmission and, for mountain bike shoes, depending on how much running you do, the tread will wear down. Plus, they just won't look as spiffy...

For all these reasons, new shoes make a really excellent gift. By the way, whether you decide to spring for new shoes or not, new cleats make a great stocking stuffer!

There is a huge range of shoes available, broken down by type (road racing, road recreation, mountain bike racing, etc.) and features. Of course, shoe fit is critical, so you need to make sure you get shoes that your recipient is comfortable with. This can mean sticking with a newer / higher end model from the brand they currently use, or involving them in the buying process (who says gifts have to be a surprise).

We are going to start you off with some suggestions from models we have recently tried out.

The Garneau Zero-degree LS-100 is the shoe for this time of year. It has a mountain bike sole with a lugged tread and will accept two toe studs for traction. However, it is the outer shell that really makes this an excellent cold and foul weather shoe. To keep your feet warm and dry, the shoe has an insulated inner sole, fully seam-sealed water-resistant 3mm neoprene, a lined interior and a base of 4 mm foam insulation and waterproof membrane coated lining. For comfort and fit, the shoe is equipped with the BOA L4 ratchet dial enclosure system that is easy to adjust and distributes pressure, and is covered with a double flap with velcro for full protection. Previous models, while offering good protection had a much stiffer outer layer and didn't have the BOA enclosure system - this is a big upgrade. Suggested retail is $199.99 Garneau also offers the Glacier road model at the same price, however, it does not have the newer retention system or neoprene outer.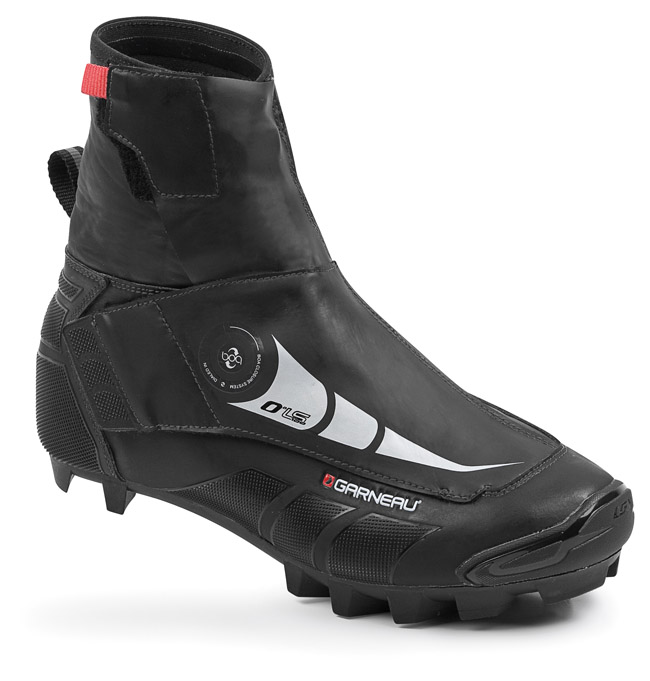 Also for this time of year is the Northwave Fahrenheit GTX winter shoe, distributed in Canada by Cycles Lambert. This has a reinforced carbon sole with a Gore-Tex breathable membrane upper, which stops wind and wet while allowing the foot to breath. It comes with a speed lacing retention system and velcro for the outer protective covering. Suggested retail is $224.99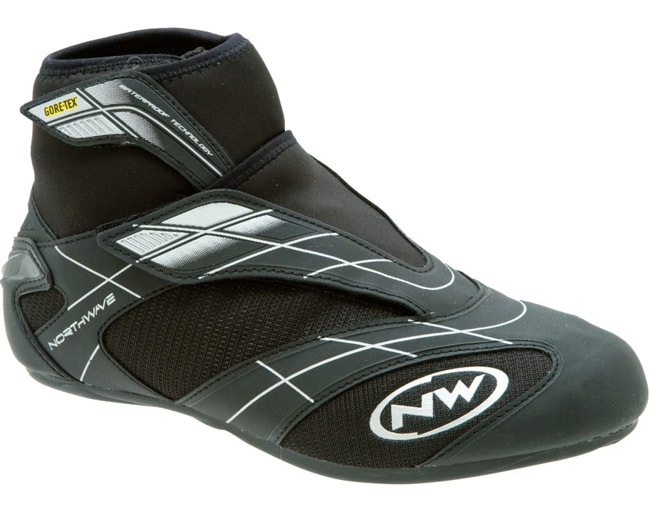 The S-Works Trail shoe from Specialized is their first high performance model for trail riding - more durable than the superlight XC race models, with greater ankle protection and more substantial toe box moulded kick plate. It offers a carbon sole for excellent rigidity and the BOA retention system. While more substantial than the S-Works XC, it is still remarkably light (370g for one shoe, size 42). While I enjoy lightweight, extremely stiff racing shoes, they do tend to offer much less protection, and if it is at all cold you know it right away. The S-Works Trail is a much better all-round choice. Suggested retail $430.
Women's shoes are finally starting to hit the market in a reasonable selection of styles, and it is about time. Women generally have narrower feet than men, so a standard cycling shoe will often offer less support and comfort for women. Specialized has four mountain bike models for women, with the Motodiva the model designed for all-round trail riding. Besides the contoured fit on a women's last the recently redesigned Motodiva provides an enclosure system with two velcro attachments plus a BOA adjustable dial, a stiff nylon sole and a synthetic and mesh upper. Suggested retail is $220